NEPEAN LEAGUE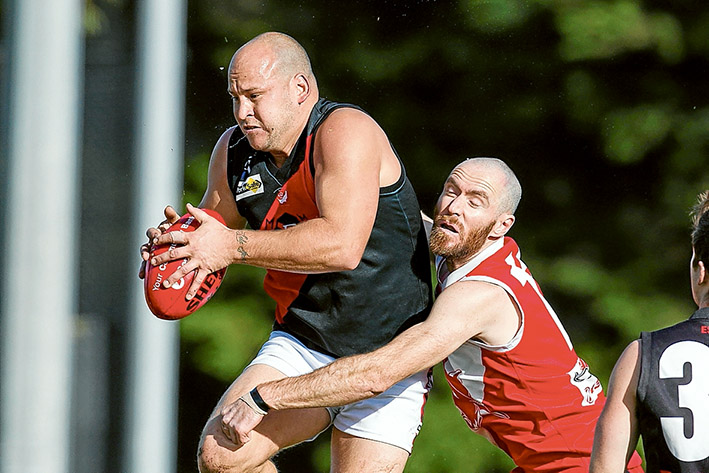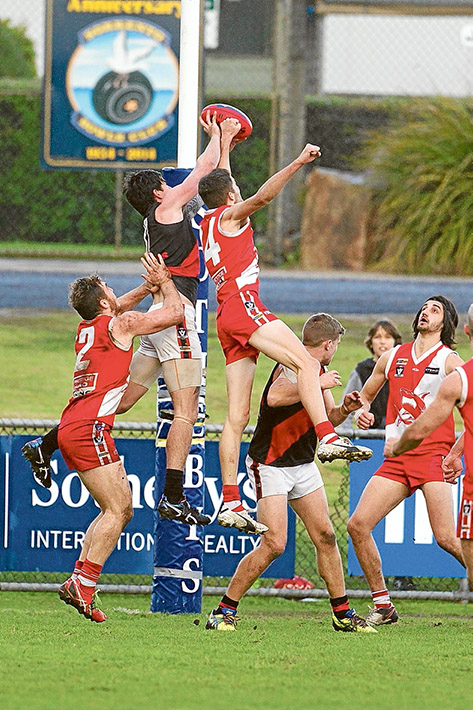 SORRENTO got back on the winner's list on Saturday, knocking over the in-form Frankston Bombers in epic fashion.
The Sharks had lost their previous two games at home to Rye and Devon Meadows but with some returning players and a tweak in game style, the home side was able to take the Bombers down a peg.
The Sharks had nine scoring shots to two in the opening term and never looked in danger, winning 15.11 (101) to 7.15 (57).
With Scott Lockwood back in the team and joining Nick Corp in the forward 50 metre arc, the Sharks worked on moving the ball quickly into the attacking zone and isolate the Bombers' defenders.
It worked a treat, Corp booted five and Lockwood four while Ryan Potter completely shut down Bombers' new recruit Luke James.
Sorrento coach Nick Jewell said his side was 'excellent'.
"We worked on a few things and the boys were on from the first bounce," Jewell said.
"You could sense the effort from our boys out on the field and Lockwood coming back into the team really straightened us up.
"We wanted to move the ball a lot quicker than we have been and give Lockwood and Corp an opportunity to get some good footy.
"The kids were sensational again also.
"Jack Gipp, who is a champion boxer, played his first game for us after four best-ons in the Under 19s and he looked at home at senior level.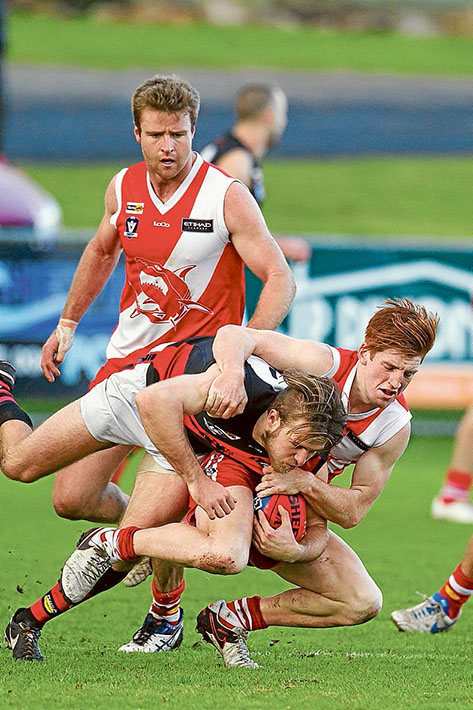 "James Brigden was able to get the job done on Zac Longham too. James would have to be the best full back in the competition right now," Jewell said.
Despite the dominant performance, the game went within three minutes of being called off.
Joel Boase, in his third senior game, and the best mate of Gipp, dislocated his ankle and broke his fibula.
An ambulance was called and Boase was taken from the field after 27 minutes. The game would have been called off had it taken another three minutes.
Jewell said Boase had surgery on Sunday and will miss the rest of the season.
It was a good return of form for the Sharks, who had been looking vulnerable.
"Look, we are a very different side to the one that played last season. There's nine new faces from the Preliminary Final team of last season," Jewell said.
"The past is the past and we want this new group to create their own dynasty," he said.
Somerville went down to Rosebud for the eighth consecutive time on Saturday and lost their place in the top five.
The Eagles are in terrible form and when a side is losing, rumours tend to start.
Eagles' coach David Hirst was quick, as always, to get on the front foot and defend his club.
"There's plenty going around at the moment but the truth of the matter is that we are in poor form and our good players aren't getting hold of the footy," Hirst said.
"We have 14 injuries, our depth isn't what it used to be, we've had some personal club losses and to be frank, we're a bit fragile right now.
"It can be turned around though. There's no doubt that it's 100 per cent between the ears with us. The talent is there. We just collectively need to start getting our hands on the footy."
Hirst said the rumours regarding Scott Simpson heading to Western Australia were true.
"Simmo will be with us for the rest of the season though, so him wanting to leave before clearances close isn't true.
"There's also no other players who want out before clearances close. There were no punch ons at the club like rumours have suggested and there were no big meetings either.
"We just need to bounce back and I'm sure we will do that," Hirst said.
Rosebud beat Somerville by seven goals, 14.13 (97) to 7.10 (52).
Ben Dwyer was sensational in the ruck and the difference between the sides, while benny Shultz played his best game for a number of years.
In other matches, Rye stormed home to beat Tyabb by 36 points. Matt Greig is out for four or five weeks with a knee injury but Dean Millhouse and Nathan Henley each kicked bags in his absence.
Red Hill beat Devon Meadows in another tight contest, winning by a goal, Dromana held off Crib Point to win by 16 points and Hastings went a game clear at the top of the ladder with a seven goal win against Pearcedale.