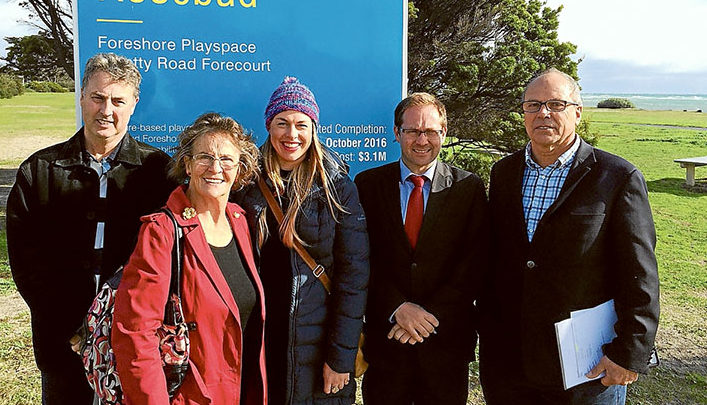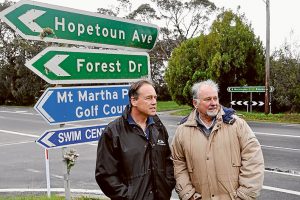 THERE are six candidates lining up for the seat of Flinders in Saturday's federal election, but it would be wrong to say they all have a chance of winning.
The seat has been held by Liberal Greg Hunt since 2001. He was re-elected in 2012 with an 11.8 per cent majority.
Trying to unseat him are Carolyn Gleixner (Labor), Willisa Hogarth (Greens), Ben Wild (Animal Justice Party), Yvonne Gentle (Rise Up Australia Party) and independent Shane Lewis.
The campaigns of the six contenders vary significantly – from Mr Hunt's professionally produced road signs and coloured brochures to a hand painted black and white board planted at a freeway off-ramp by Shane Lewis.
This campaign is Ms Gleixner's second, having in 2014 unsuccessfully contested the state seat of Nepean, held by Martin Dixon. Although having the backing of the ALP, her mother Esther is her main helper along with a team of volunteers.
It's a similar situation on the volunteer support front for the Greens' Ms Hogarth, whose party is concentrating on winnable seats and the Senate. The party's fourth Senate candidate is Elise Klein, who lives on the peninsula.
Mr Wild's Animal Justice Party, also short of cash, has probably benefitted from the latest revelations of cruelty to cattle and sheep shipped out in Australia's live animal export trade. Both Labor and Coalition governments have done little to ensure these animals are treated humanely after leaving Australia.
Mr Lewis describes himself as "a public advocate … helping people and their families who have been raped tortured and killed under Victorian mental health treatment".
"My main field of study over the last 40 years has been the generational social psychological study of consumer addictive behaviour using modern Pavlovian processing post WW2 to present day," Mr Lewis told The News.
"Trying my best to be able to set up programs to counter the conditioning of new generations with bad multi-national corporate designed addictions.
"Trying my best to help create an environment for good community and family conditions that can consider the natural environment as an important asset."
Yvonne Gentle of the Rise Up Australia Party has not provided any information to The News.
Liberal candidate Mr Hunt, a high profile cabinet minister in the Turnbull government, has the advantage of being the incumbent with staff on the government payroll pumping out news releases and monitoring media outlets to counter any criticisms. He has also enjoyed a weekly spot as a commentator on ABC radio, although in that particular role he is pitted against a Labor opponent.
As a senior Liberal Mr Hunt is deployed to support other candidates, which can be good, or bad.
The Western Australian Liberal Sherry Sufi on 21 May was forced to quit over comments he made in 2013 about same-sex marriage and Indigenous constitutional recognition. Ten days before Mr Sufi's emergency exit, Mr Hunt had been in WA and described him as "a great local candidate" and "a magnificent candidate".
Mr Hunt was also in Adelaide supporting Jamie Briggs, who was appointed Cities Minister which comes within Mr Hunt's Environment portfolio. Mr Briggs resigned his position last December shortly after an incident with a female public servant in a Hong Kong bar. The junior cities ministry was first offered to former Small Business Minister Bruce Billson, who declined and eventually announced his departure from parliament after 20 years as the MP for Dunkley.
Mr Billson and Mr Hunt have adjoining electorates and for years have maintained a professional working relationship.
A much easier task for Mr Hunt has been sharing a platform to make joint election promises with Chris Crewther, the Liberal candidate seeking to win Dunkley.
Mr Hunt's signs and brochures all carry the "Working together, getting results" message, coincidentally the same words used by many organisations from a leadership training consultancy in Birmingham, UK, to the Lake Michigan Shorelands Alliance in the US.
Mr Hunt can react angrily to unpalatable questions and has been known to stress to journalists (this writer included) that he has a good relationship with members of the Canberra press gallery.
In February Mr Hunt was named best minister in the world at the World Government Summit in oil rich Dubai, but this impressive title did little to stem the number of protests regularly held outside his Hastings office, mainly concerning either coal mining, the Great Barrier Reef or the government's treatment of refugees and asylum seekers.
There have been protesters dressed as angels on his roof, grandmothers frisked by federal police before being admitted in to see Mr Hunt and a bag of coal delivered to his office.
In the past week Mr Hunt's election promises have included $44,000 to improve safety on Tyabb-Tooradin Rd between Bungower and Bembridge roads; $200,000 for the first stage of an "upgrade" at the intersection of Nepean Highway and Forest Drive, Mt Martha, scene of a fatal accident in 2014; $200,000 for CCTV cameras at Rye shopping centre; and $50,000 for barriers to stop monkey bikes being used at Wallaroo Reserve, Hastings.