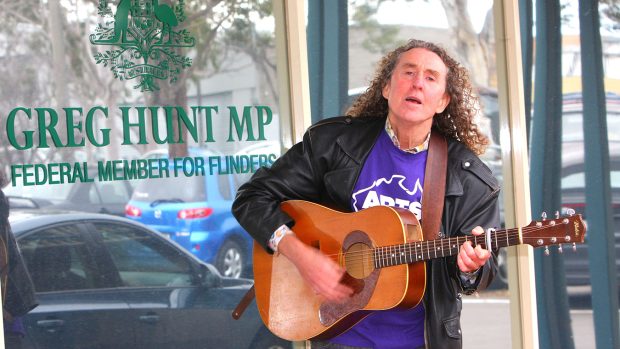 Musician Steve Romig didn't quite get the audience he was hoping for when singing a protest song outside the Hastings office of Flinders MP Greg Hunt.
A troubadour with a message about his concern for the environment, Romig, of Tootgarook, says the Environment Minister's staff quickly left and locked the office before he even played a note.
Despite the empty office he decided to continue his performance, even though it seemed his only public audience were the occupants of a mysterious black four-wheel drive, parked just across the car park.
His manager, Michael Snelson, of Balnarring-based Soul Management, said Mr Hunt's staff "shut up shop" just after 10am Thursday as he and Romig were waiting for Arts Party Senate candidate, Maureen Andrew.
"They literally closed the office and drove away. We know this as other members of the general public were trying to get into the office and couldn't enter, so they all left," Snelson said.
"Steve decided to continue and commenced his peaceful protest by singing his song Come My Children."
It was at this stage that the troubadours spotted the four-wheel drive with darkened windows.
"We noticed the occupants watching us and thought it may have been Greg avoiding us," Snelson said. "Steve decided to walk over to them, continuing his singing.
"Once he finished his song the occupants exited the car and introduced themselves as federal undercover police officers.
"They were very friendly and we all had a laugh about Steve having just serenaded them.
"They confirmed they were called by Greg's office before the staff had left. They also confirmed the staff left because of us, which was interesting considering Steve hadn't even gone near Greg's office at that point.
"They explained their presence was precautionary only and agreed their presence was probably overkill given the circumstances."
Show over, Romig and his entourage moved to High St and the VEC polling "shop" where, according to Snelson, they found a few other Flinders candidates "were more than happy to talk to Steve and get involved with him. A very different outcome to what we faced at Greg Hunt's office.