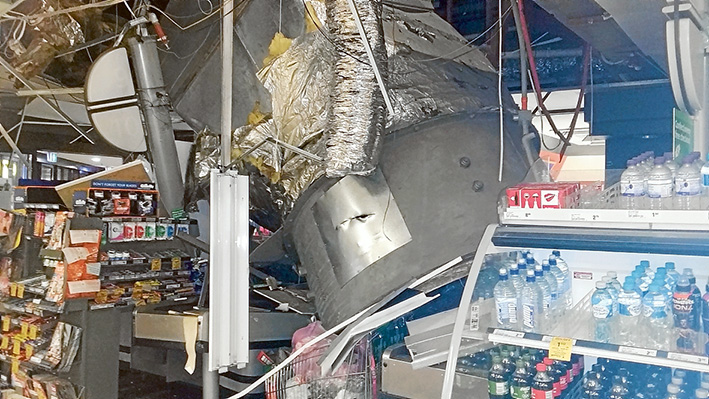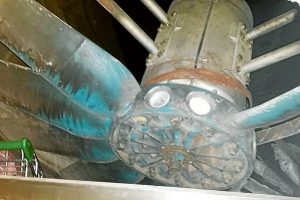 A LARGE section of the Mornington Village shopping centre's air conditioning unit fell into the Woolworth's store, Sunday last week, causing more than $100,000 damage.
The return air conditioner duct weighing up to half a tonne broke free from its mounting in the ceiling space and crashed onto shoppers' checkout points around 9.30pm.
It has been suggested a blade in the fan dislodged, unbalancing the unit, and causing sufficient vibration to send it smashing to the floor.
The store had closed half an hour earlier and there were only about half a dozen high staff on duty.
"It could have been horrendous," Mornington fire brigade's incident controller Gary Bryant said. "If the equipment had fallen during a busy shopping spree … the what-ifs are mind-boggling."
Mornington and Mt Eliza fire crews initially responded to a possible roof fire at the store, at the corner of Main and Cromwell streets, after a sprinkler alarm was activated.
"When we arrived the night shift duty manager said no one was injured and everyone had been evacuated," Mr Bryant said.
A no-go zone was set up around the store's customer area as the sprinkler system was raining water on exposed electrical wiring.
Sprinkler systems were turned off when no fire was found.
Electricians, plumbers, air conditioning technicians, centre management, Woolworth's management, WorkSafe inspectors, structural engineers and shire building surveyors were called to the scene.
"Once the area was deemed safe, crews worked to redirect water from the building to limit losses to Woolworths' stock and infrastructure," Mr Bryant said.
Fire crews remained at the scene for about three hours until the site was "handed back to centre management".
"It was very fortunate that nobody was injured, not only prior to, but following CFA arrival, thanks to protocols from Woolworths and the CFA," station officer Bryant said.
Woolworth's spokesman Craig Simonetto said the air conditioning unit was the responsibility of centre management. "We are working with centre management to repair our store quickly, as the safety of our customers and staff are of paramount importance."
The store was closed Monday to clean up the mess and reopened Tuesday.
No one from Mornington Village shopping centre was available for comment.
WorkCover was approached for comment but did not reply by deadline.