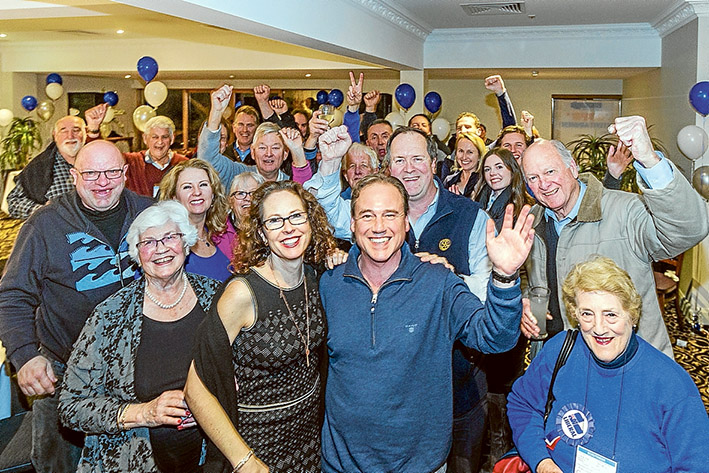 GREG Hunt has been re-elected to the federal seat of Flinders, although his majority has been pared back to single figures.
On the latest available figures Mr Hunt holds his seat with a majority of just over seven per cent. He won the previous election with an 11.8 per cent margin.
When counting ended on Saturday night Mr Hunt was in the lead with a comfortable 56.9 per cent of the 78.6 per cent of votes counted.
On preferences there was a 4.9 per cent swing to Labor's Carolyn Gleixner, but Mr Hunt's lead remains one of which many of his colleagues can only dream about.
However, the combined efforts of Ms Gleixner, Willisa Hogarth (The Greens) and Ben Wild (Animal Justice Party) have succeeded in paring back Mr Hunt's safe lead to single figures.
But there is no way Flinders can be regarded a marginal as a result.
The seat has been held almost continuously by the Liberal since 1972, with just one small blip, in 1983 when it briefly went to Labor's Bob Chynoweth who defeated Liberal Peter Reith.
On Sunday Mr Hunt said he was honoured to have been re-elected and now saw the government's "task" as being to "deliver on our commitments and to fight for other inmportant projects in the electorate, such as development of the Rosebud hospital".
Mr Hunt was also "pleased to see Chris Crewther as the [Liberal] member for Dunkley".
Mr Hunt, 50, has held the seat since 2001.
As Environment Minister he became a high profile member of first the Abbott Coalition government and then that led by Malcolm Turnbull.
However, his portfolio attracted a lot of attention, especially when it came to port developments likely to detrimentally affect the health of Queensland's Great Barrier Reef and his approval of the multi-billion dollar Adani coal mine, also in Queensland.
In his own electorate, the environment of Western Port took a back seat with the November 2014 election of the Daniel Andrews Labor government in Victoria and its decision not to proceed with an international container port at Hastings.
If the port had gone ahead Mr Hunt would have been called on to approve dredging works in the bay that environmentalists claim would harm internationally recognised wetlands.
Over the past few years Mr Hunt's office was often the focus of demonstrations, mainly criticising the government's environmental and asylum refugee policies.
Luckily, most of the protests did not deal directly with issues or involve voters within the Flinders electorate.
A fact reflected in the outcome of Saturday's poll.
First published in the Southern Peninsula News – 5 July 2016