NEPEAN LEAGUE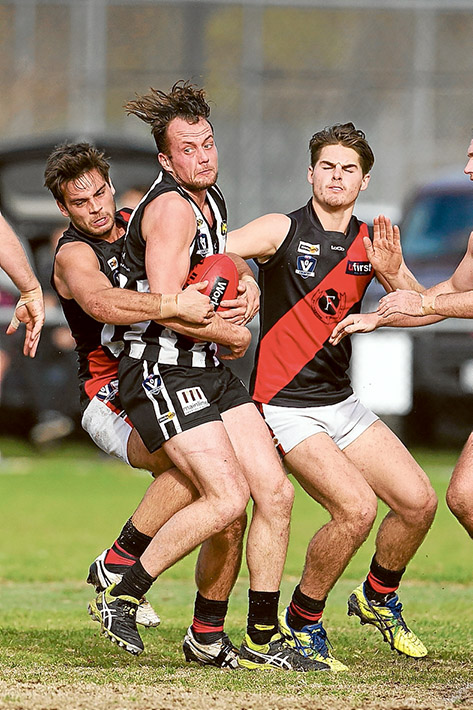 Even a seven goal last quarter couldn't help Devon Meadows steal a win against Dromana in MPNFL Nepean Division on Saturday.
Trailing by four goals at three quarter time, the Panthers stormed home in the final 30 minutes, albeit never hitting the front, only to fall just short, 15.11 (101) to 14.13 (97).
It was Dromana coach Rikki Johnston who proved to be the difference between the sides, booting six goals in a best on ground performance.
Rated one of the best defenders of all time, Rikki J has booted 17 goals since swinging himself forward against Tyabb in Round seven.
Johnston now forms part of what looks to be a pretty potent forward half, which includes Beau Cosson and Beau McMurray, who both booted three goals on Saturday.
Billy Quigley has been sensational for the Tigers this season and his consistency has run against the grain of many of his teammates.
Terry Wheeler has also been providing outstanding leadership for the likes of Daniel Marchesani and Ethan Johnstone.
The Panthers were gallant again, losing their second straight match by less than a goal after beating Sorrento three weeks ago.
Coach Glenn Michie, who announced his playing retirement at season's end on Saturday morning's RPP Footy Show, said that "kids were getting an opportunity".
"When I put my best side on the board in the pre-season, there were more than a dozen blokes on it that are not playing now through injury," Michie said.
"In any club, that makes things pretty tough, however, the kids are getting an opportunity and they are now starting to find their way at the level. Our past few performances have proven that.
"We have also been rocked by Beau Miller's illness and the effect of this news and Beau's ongoing fight and battle has had a significant impact.
"We have had a sports chaplin in at our footy club and I think now, some nine weeks later, we're just starting to get a handle on it.
"Beau Miller is one of the strongest people, both mentally and physically, I have ever had the fortune to meet in my 20 years of playing senior football. He's fighting one hell of a battle but the whole footy community, throughout the MPNFL, is right behind him and his family," Michie said.
Jesse Bowe played arguably his best game for the Panthers while Steve Roberts continues to dominate in his return season after knee reconstructions. Roberts would be leading the club B&F in his first season. Chris Doria is also having a very consistent season.
Frankston Bombers bounced back from its defeat at the hands of Sorrento last week, belting Crib Point 16.16 (112) to 5.4 (34).
The Bombers were in an uncompromising mood on Saturday and put the Magpies to the sword.
With Beau Muston missing with a knee injury and Zac White missing through suspension, it left the door ajar for one of the best players to ever grace an MPNFL field in Brian O'Carroll to return.
Despite not playing footy for almost three years, O'Carroll was slotted straight back into the senior team.
Muston told the RPP Footy Show that while he is "all for club culture and setting the right example", O'Carroll was an exception to the rule.
"Brian is one of the best and most decorated players this footy club has ever seen and I had no hesitation putting him straight back into the senior team," Muston said.
"We need him up and running when the whips are cracking. He is in a great place mentally and just wanted to get back playing footy with his mates.
"It had nothing to do with what we might be able to achieve this season, Brian would have come back if we were on the bottom of the ladder."
Frankston also saw the return of Ryan Kitchen from suspension and a hamstring injury, while Luke James made an impact with four goals. Michael Maiorino was also sensational yet again with six goals, while the unheralded Josh Francis and Josh Chapman continue to find the footy.
The Magpies, who have been ultra-competitive in recent weeks, were never in the hunt.
Mitch Stansborough played his best game since crossing from Mornington, as did Matty Hogan, since crossing from Frankston YCW. Dean Warry and Luke Herrington are just stars!
Rosebud flexed its muscles and added some valuable percentage, smashing Tyabb 19.29 (143) to 5.7 (37).
Inaccuracy cost the Buds dearly, however, didn't prevent a 100 plus point win.
Keegan Downie booted seven goals for the Buds and was one of his team's best while Ryan Spooner (three goals) and Greg Bentley put on a clinic.
Jake Anderson and Rohan McGrath were the best of the Yabbies.