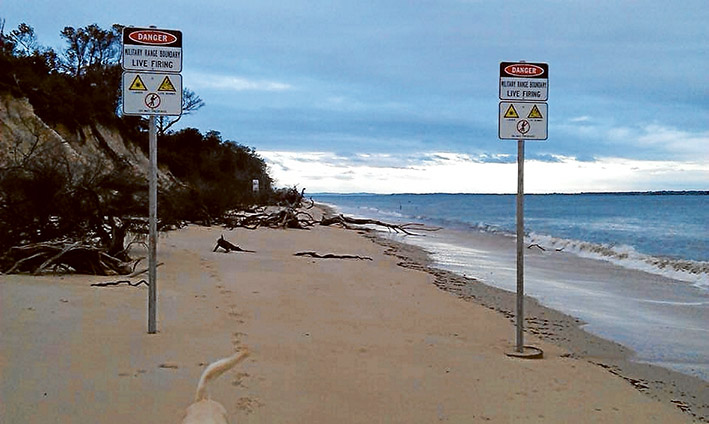 CONTRACTORS were yesterday (Monday) removing incorrect no-trespassing signs on Somers beach.
The signs had caused concern among regular beach users, but it seems they were meant to warn of danger further inland not on the beach.
The signs, put up by HMAS Cerberus on 30 June, are 1.7 kilometres north-west of the 100 steps, below the high water line and above the low water line in the tidal zone.
The warnings could have affected elderly activity groups, bird watchers, joggers and dog walkers who regularly use the foreshore.
Beachgoer Barry Hodder, of Bittern, said he had been exercising at Somers beach for many years, and enjoyed walking from the car park up to Stony Point and back, about 12km.
He said he felt both angst and bitterness at what he perceived as a closure by the navy of his usual walking area.
He said several regular beach users had asked whether the closure was legal and whether there was a dedicated no-go zone on this stretch of beach, particularly in the tidal zone. Also, when was the area declared a no-go area?
But, yesterday, Cerberus commanding officer Captain Stephen Bowater said the no-trespassing part of the signs had been incorrectly included on the signs, although the warnings of live firing were correct.
"People are still free to walk along the beach, which is well outside live firing areas," he said.
"The message is not to go above the high-water mark."
Captain Bowater said the immediate inland area had been a small arms firing range over the years, with many unexploded shells embedded in the ground.
"It's OK to walk along the sand, but not inland," he said.