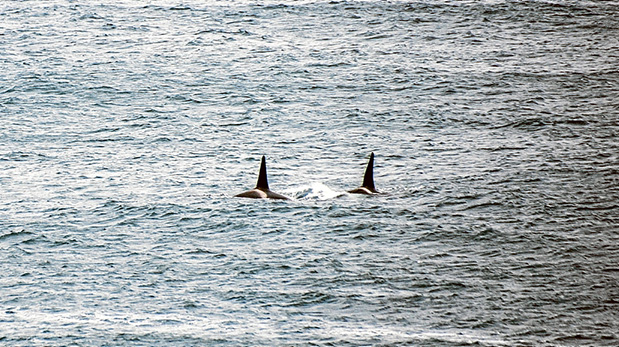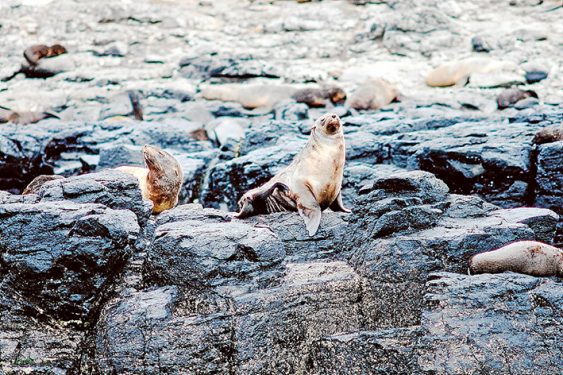 A POD of killer whales has caused excitement among wildlife watchers off Flinders and Phillip Island, although its arrival is probably not so welcome by the inhabitants of Seal Rocks.
Known as the ocean's apex predator, the killer whales, or orcas, were first seen by tour operator Wildlife Coast Cruises about 11am on 4 July.
The Dolphin Research Institute's David Donnelly said the news quickly spread with "eager whale watchers converging on the location, but you had to be quick as the pod was clearly on a mission".
"Shortly after arriving the killer whales quickly went about investigating the local Australian fur seal colony. It wasn't long before onlookers were treated to the sight of the apex predators throwing prey – likely to be a seal – into the air, tail slapping and breaching."
Mr Donnelly said a photo taken by Robyn Raven of Phillip Island confirmed that one of the killer whales was "a very well-known individual affectionately known as Split Fin".
"Split Fin has been known to the east Australian photo identification catalogue since 2003," he said.
"Her very distinctive dorsal fin makes Split Fin easily recognisable at sea. The fin has a large vertical split through the centre, causing it to flop to the left. The cause of the disfiguration is believed to be from an interaction with a boat propeller."
Mr Donnelly said the killer whales moved off to the west about an hour later, "passing two humpback whales on the way".
Photographer Matt Burgess reported seeing the same killer whales near West Head, Flinders.
"You never know what the ocean will serve up. One minute I was shooting waves, the next 10-15 killer whales swam past," he said.
"I've never seen one before, it was amazing."
The pod was last seen swimming through the Mushroom Reef marine sanctuary toward Cape Schanck.
Mr Donnelly said the same pod of killer whales was identified near Phillip Island on 27 December 2015.
"Killer whales are technically not whales, they are in fact the largest species of dolphin. They can be found in all of the world's oceans from the equator to the polar ice caps."
Details: Facebook Killer Whales Australia
First published in the Southern Peninsula News – 12 July 2016