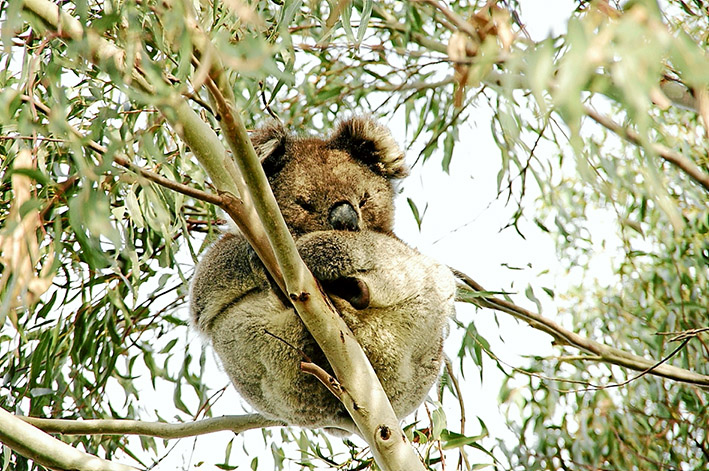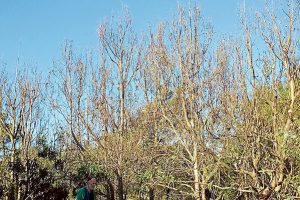 PROPERTY owners on French Island are worried that koalas are eating themselves out of house and home.
Although not native to the island, the introduced koalas are so successful that their numbers have increased past the point of being able to sustainably coexist with the vegetation on which they feed.
Islanders fear the koalas will die of starvation or need to be culled as hundreds were in 2013 and 2014 near Cape Otway, south-west of Melbourne.
"The extent of damage and loss of koala habitat has increased over the last three years to the point where koalas themselves are becoming desperate for food," French Island Landcare Group president Alison Pitt said.
"It is not uncommon to see three koalas in one tree. Not only is this bad news for the tree but stressful to koalas who are quite territorial."
"Koalas on French Island remain disease free and have no predators. They do not self-regulate in their breeding habits so left unabated increase their population very quickly and are now eating themselves out of habitat."
Wildlife officers say there should be one koala a hectare.
Ms Pitt said members of the Landcare her group had "been expressing their concerns to Parks Victoria, DELWP and the Minister for Environment about the koala population on French Island for almost 12 months without response".
She said a sterilisation program believed to start in spring would do little to ease the problem in the short term.
Ms Pitt said a sterilisation program started in 2007 allowed trees to recover in some areas but other parts of the island were being decimated.
Since 1923 more than 8,500 koalas from French Island have been used to repopulate areas on the mainland where their numbers had been declining.
"In spite of the importance of the Island for Victorian koalas, koala habitat on the island has been neglected and koala numbers have frequently been allowed to rise to the point of widespread destruction of island trees," Ms Pitt said.
"The koalas did an enormous amount of damage to koala habitat on the island in the 2000s, when translocations were halted for lack of further suitable places in Victoria, exacerbated by the millennium drought."
Ms Pitt said of thousands of trees planted by the Landcare group over the past two decades had been killed or damaged by koalas.
Although a management plan is being devised for the island's koalas the group believes doing nothing to manage the animals' habitat should not be an option.
Ms Pitt said it appeared the island was seen as a place to breed koalas but without consideration being given to damage being done to areas of manna gum heathy woodland and swamp gum plains grassy woodland "where tiny degraded remnants remain on basalt soils on private land, which are constantly threatened by koala over-browsing".
The News has contacted DELWP for comment.