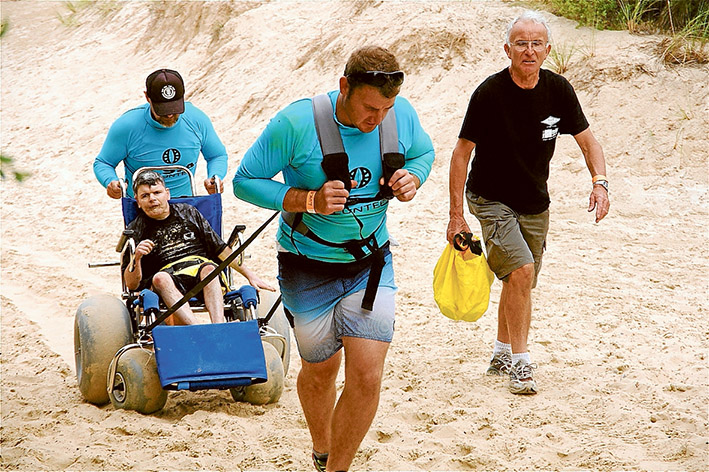 THE final financial steps are in place for a viewing platform and beach access ramp to be built overlooking the beach at Point Leo.
A project of the Disabled Surfers Association Mornington Peninsula branch, the platform will be at the end of a boardwalk running from the lifesaving club to the beach.
The six metre square viewing deck will be open to the public and also provide lifesavers with uninterrupted views along the beach.
Steps and a wheelchair access ramp will run from the deck to the sand, making Point Leo the first surf beach on the peninsula to have all abilities access.
Plans for the boardwalk and viewing platform have been lodged with Mornington Peninsula Shire and the DSAMP hopes it will be built by mid-2017.
The $80-90,000 for the boardwalk, viewing deck and beach access has come from the DSAMP, Point Leo Foreshore Committee, Mornington Peninsula Shire, Australian Government (Stronger Community grant) and Point Leo Surf Life Saving Club.
John Bowers, who has been co-ordinating the project for the DSAMP, said it would bring "significant benefits" to all beach users.
"Further access to the beach from the platform will be available using our free loan purpose built Sand Cruiser wheelchairs," he said.
"The viewing platform will provide lifesavers with a full unimpeded view of the beach as well as providing a marshalling platform for wheelchair participants to view the activities on DSAMP event days.
"From there, wheelchair bound surfing participants will enjoy watching the beach activities while waiting for their turn to surf instead of waiting at the lifesaving club where there is no beach view."
Mr Bowers said 21 per cent of people on the Mornington Peninsula were over 65, well above the 2011 state average of 14.2 per cent.
"The Frankston-Mornington Peninsula catchment has one of the highest proportions of older people in Australia," he said.
"Using the Australia wide established figure of 19 per cent of our population living with a disability, it would be expected that out of the peninsula's 125,000 residents there are about 23,750 with a disability."
First published in the Southern Peninsula News – 19 July 2016