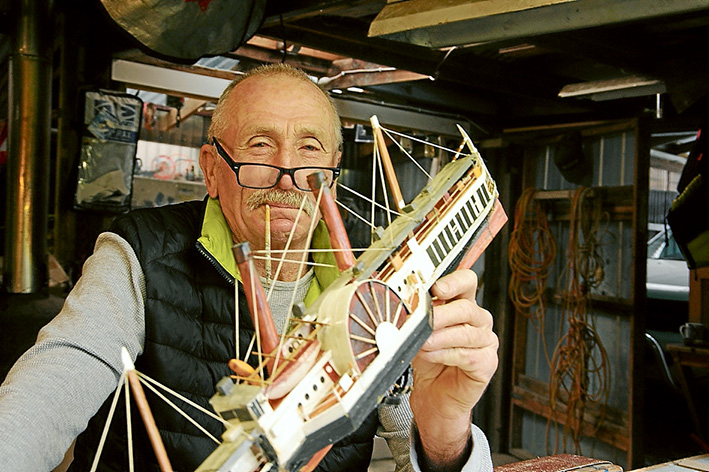 ROB Lippiat is reviving the days when paddle steamers regularly circumnavigated Port Phillip.
But he's not about to embark on a voyage of the bay, it's more about looking at the past in scale, about 100 to one.
Lippiat is building model replicas of the boats and admits to doing things by halves.
His wooden boats and split down the middle and mounted on mirrors.
"I used to make them complete, but this way they can fit in with any decor," Lippiat says while sitting at his workbench in Mt Martha.
"That was more than 14 years ago when I sold them at various markets, the main one being at Southbank."
According to Lippiat the bottom fell out of the model boat boom he'd been experiencing soon after 11 September 2001 the terrorist attacks in New York and Washington.
Coincidence or not, the loss of the model boat market meant he had to return to the building trade (he ran a roofing company and also erected house frames) and the other recreational loves of his life: hang gliding, surfing and diving (dodging a seal that he thought was a sharks off Flinders and taking the wrong tunnel to an undersea cave in Western Samoa are just two of his many tales).
Lippiat was an early starter among the ranks of hang gliders, having always "wanted to fly like a bird". He was accomplished and flew the cliffs at Mt Martha (often pursued on the ground by by-laws officer), from Flinders to Cape Schanck and around Portsea and Point Nepean.
He laughingly admits "every land is a crash landing" and remembers the difficulty in scaling high security fences around the Quarantine Station at Point Nepean. There were also "28, or was it 36" circles in a downward spiral from 8000 foot above Double Island Point in Queensland.
Nowadays, he still surfs and has decided to go back to the boats, albeit concentrating on the paddle steamers that in the late 1800s plied Port Phillip, such as the Weeroona, Hygeia, Ozone, Lonsdale and the Golden Crown.
Photos and dimensions are available on the internet, along with their histories. An accomplished cartoonist, he chooses his own colours.
The latest crop of models is mounted on mirrors instead of being framed.
"I wanted to make Australian boats, especially those that had something to do with the bay," Lippiat says.
Inspiration also came after reading a book about shipwrecks on Victoria's west coast. More definite ideas come in the form of photographs sent by boat owners commissioning him to make them a model of their pride and joy.
Lippiat reaches for an iPad to call up some historic pictures of boats but pauses on a site that hosts live feeds of cameras pointing at several of the peninsula's better known surf beaches.
The pictures show there is swell, an offshore wind and an incoming tide.
All thoughts of model boats are pushed aside; the "Mastershipwright" – as Lippiat calls his business – is off in search of a wave.
To find out more about Rob Lippiat's model boats call 0418 544 464.