PENINSULA LEAGUE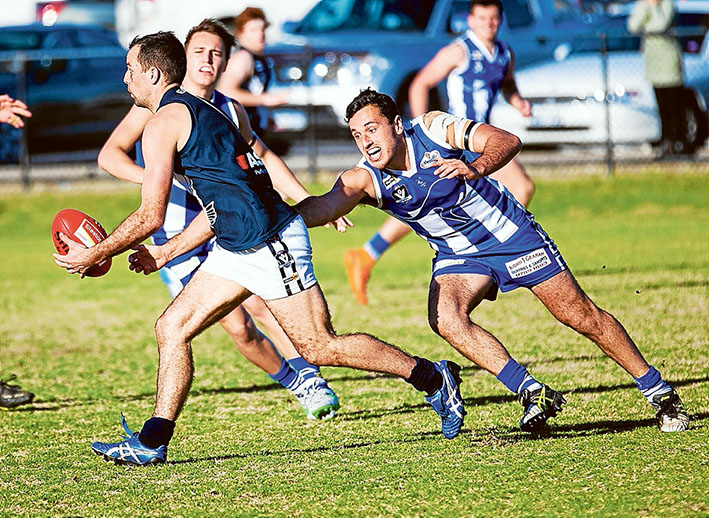 PINES bounced back from a shock defeat last week to inflict a savage loss on Bonbeach in MPNFL Peninsula Division football on Saturday.
Pines coach Patty Swayne scoffed at suggestions pre-match that there was daylight between Bonbeach and the top three sides after the Sharks had won seven of its past eight games.
However, Bonbeach coach Steve Hughes might have been right after the Sharks were made to look second rate by the Pythons, going down 4.12 (36) to 17.6 (108).
Pines' loss last week to Edithvale had a little to do with the fact that full back Jack Fisher didn't play, along with star forward/ruckman Tim Bongetti, tough onballer Chris Guganovic, classy youngster Brad Kiely and the underrated Damian Plane.
They were all back on Saturday and despite taking a while to get going, recorded an effortless victory in the end.
Aaron Edwards took his own footy to the match at Eric Bell Reserve, relishing the outstanding conditions with nine goals in a faultless display, while Guganovic and Adam Maling were superb also.
Only seven points separated the teams at half time, before Edwards started his one-man show that saw the home side boot 11 goals to six behinds after the major interval.
Jackson Casey and Justin Bennett were the best of the Sharks.
League leading goal kicker Mick Meehan was the best player on the ground on Saturday in Edithvale-Aspendale's demolition on Langwarrin at Lloyd Park.
In what some considered a danger game, the Eagles were never in any trouble at all, extending their lead at every change to run out 19.8 (122) to 10.10 (70) victors.
Liam Harris was superb across half back, providing enormous run and drive for the Eagles, as did Jack Fisher, while Todd Woodbridge again relished the wide-open spaces of Lloyd Park.
The game saw nine Under 19s play in the match with Langwarrin having five of them.
Under 19 skipper Kyle Busuttil-Inglis made his senior debut and looked at home with poise and attack on the footy, finishing with a couple of goals.
Luke Churcher, Blake Peach, Nick Tuddenham and Shane Paterson were the best of the Kangas.
On a negative note in the match, Tommy Turner was carried from the field with a leg injury, while Langwarrin's Gerard Brown was reported and offered two-weeks for nothing more than a late hip and shoulder on Woodbridge. For a player to get suspended for that would be an outrage, as was shared by Eagles' players and officials after the game. It was simply a blatant over-reaction from an umpire that likes to be involved in the occasion.
Mt Eliza took more than an hour to shake off a very persistent Karingal, eventually winning 10.12 (72) to 6.13 (49).
The Bulls led at every change except for the one that mattered as the Redlegs almost doubled their score in the last quarter, booting five goals to four behinds.
Darren Booth and debutant Mason Dewitt were sensational for the winners while Sam Gill and Dan Gormley were also at their best.
Aaron Paxton booted three goals to be Karingal's best while Aaron Lees was also very good.
Mornington's dominant 24.11 (155) to 12.9 (81) victory against Seaford was marred by the head injury to Nick Martin, who was taken from the field by ambulance.
The match was stopped in the third quarter after Martin was taken down in a tackle.
At that stage, the Dogs were well and truly on top after booting 15 goals to seven in the first half.
Jackson Calder was at his scintillating best with nine goals while Jimmy Cameron booted four and Josh Halsall was dominant.
Josh Stokes and Curtis Murfett were the best of the Tigers.
Frankston YCW had a few players back this week and the result was a 14.10 (94) to 7.8 (50) victory against Chelsea.
The Gulls were in the contest for a long time, however, trailing by just 21 points at the last change.
The Stonecats booted four goals to three behinds in the last quarter with Bryon Barry and Lachy Wallace dominating, while Daniel Waddell booted three goals in the absence of David Bodley.