SOCCER
By Craig MacKenzie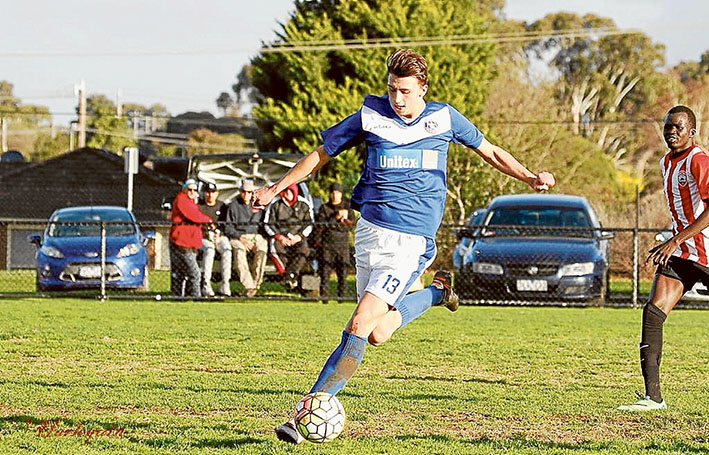 ROSEBUD Heart is the only senior team throughout Victoria's State Leagues with a perfect record.
While the fledgling club has achieved a rare feat in only its second year of competition the mood among local clubs was one of gloom as tribute was paid at last weekend's matches to former Skye United president and FFV Chief Financial Officer Chris Attard, 52, who died last week.
Skye drew 0-0 away to Harrisfield Hurricanes on Saturday but the club remains a genuine title contender in State League 4 South.
Heart's relentless push towards promotion from State League 5 South came at the expense of Pakenham United last weekend as Scott Morrison's men recorded a 3-0 home win.
The tone of this contest was set by two goals in a minute from James Liddle, his first in the 14th minute via a first-time strike following a corner and the second neatly slotted past the advancing Pakenham keeper.
Dave Greening's mandatory goal came in the 72nd minute after he burst into the area on an angle then blasted the ball home to make it 3-0.
"While winning every match so far is a great achievement and all credit to the players our first aim is to secure promotion and then we'll worry about titles," said Morrison.
Langwarrin blew a great chance to end a 23-year Lawton Park drought when it drew 0-0 with local rival Mornington in their State League 1 South-East blockbuster last weekend.
The last time Langy got the better of the Seagulls at Lawton Park was on 21 August 1993 when a Robert Mathieson goal clinched a 1-0 win for the home team.
Mornington went into Saturday's match without suspended Scott Webster and injured key central defender Steve Elliott while Langy midfielder Sam Scott failed a pre-game fitness test.
Langy could have had this one sewn up by half-time but was denied by poor finishing.
Koray Suat should have had a first-half hat-trick while Nabil Mozaffaruddin mistimed headers and Nick Thorogood hammered a shot against the bar while also twice striking the ball across the face of goal from the right side of the area.
Mornington came closest in the 14th minute when Sammy Stewart's lay-off was struck sweetly by Paul McEvoy but Langy powerhouse Alex Van Heerwarden cleared off the line.
Mornington keeper Kris McEvoy was much more involved in this match than counterpart Robbie Acs and in the dying minutes an acrobatic lunge at full stretch by McEvoy denied substitute Anthony Selemidis who had met a cross superbly and headed the ball firmly towards the top far corner.
Frankston Pines went down 2-1 away to Warragul United last weekend as it battles to avoid relegation from State League 1 South-East.
A superb Kane Bentley ball over the defence enabled Josh Calle to lob advancing Warragul keeper Jake Richardson to make it 1-0 for Pines in the 33rd minute but within a minute Ben Caffrey and Graham Hill both slipped on the greasy surface and Jacob Vitale pounced to level.
Pines hearts were broken five minutes from time when Robbie Stephen's far post header from a corner settled the issue.
Peninsula Strikers and Old Scotch keep getting involved in goal fests and Saturday's State League 2 South-East clash at H.A. Smith Reserve was no exception with league leader Old Scotch edging out Craig Lewis's side 4-3.
Strikers led 3-1 at the interval with goals from Alex Hopson (5th minute), Matt Morris-Thomas (24th minute) and Conor Keely (41st minute) with Sam Shearer (11th minute) on target for the home side.
Shearer completed his hat-trick with a controversial 82nd penalty and a 97th minute match winner while substitute Louis Razuki had levelled at 3-3 in the 89th minute.
After the match talk centred on the late penalty decision and its impact on the outcome.
"The referee initially gave a goalkick then his assistant called him over and he awarded a penalty," said an upset Lewis.
"I was proud of our boys as we hadn't played for four weeks and probably ran out of legs in the last 15 minutes but I've got no doubt that the penalty changed everything and gave them an extra lift."
Seaford United lost 3-2 at home to Beaumaris in Saturday's State League 2 South-East clash.
Both Antun Vilic and Ashley Cattermole squandered good chances early on for Beaumaris.
Vilic made amends in the 28th minute with an opportunistic strike from inside a crowded penalty area.
Seaford fought hard to get back on level terms and was rewarded in the 39th minute when Dylan Waugh emphasised his scoring prowess with a superbly curled shot from the edge of the area to make it 1-1.
The home side charged forward straight from the restart and a seemingly innocuous cross was met by a sliding Caleb Duncan whose own goal made it 2-1 to Seaford.
Vilic nabbed his brace in the 78th minute after pouncing on a poor attempted clearance and two minutes later Seaford lost its main attacking threat when a quad injury forced Waugh off.
Seaford coach Paulo Pinheiro had already used three substitutions so his side was forced to see out the game with 10 men.
The decisive moment came in the 87th minute when Duncan grabbed his chance to go from zero to hero and he nabbed the winner to give the visitors all three points.
Baxter retains hopes of catching Rosebud Heart in the championship race in State League 5 South and defeated Old Mentonians 4-1 at Baxter Park on Saturday.
Early goals to Daniel Sharratt and Liam Kilner killed off the contest and a headed goal by captain Frank Ntim in the 25th minute gave the home side an unassailable lead.
Kilner came off at half-time with an injury to his foot and may have to go for scans this week.
Paul Swann made it 4-0 in the 87th minute and Marcus Spivey scored the visitors' consolation goal in the 90th minute.
NEXT WEEKEND'S GAMES – Saturday, 23 July, 3pm:
Mornington v Morwell Pegasus (Dallas Brooks Park)

Frankston Pines v Berwick City (Monterey Reserve)

South Springvale v Langwarrin (Warner Reserve)
Doveton v Peninsula Strikers (Waratah Reserve)
Caulfield Utd Cobras v Seaford Utd (Victory Park)
Skye Utd v Dandenong South (Skye Recreational Reserve)
Rosebud Heart v White Star Dandenong (Truemans Road Recreation Reserve)
Casey Panthers v Baxter (Prospect Hill Reserve)