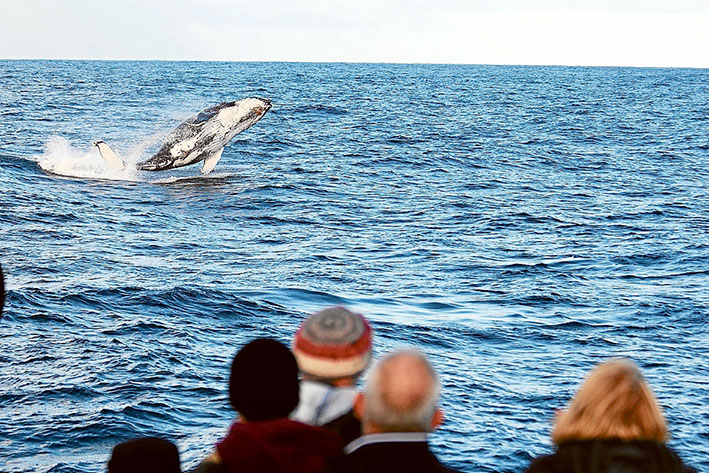 WHALE watchers are recording the "busiest season on record" as sightings pour in from Western Port and Port Phillip.
"The 2016 whale season has turned into a record breaker around our bays.  We've just had our busiest weekend of sightings ever," said Dolphin Research Institute, research officer David Donnelly said on Wednesday.
"Winter in our bays and surrounding coastal waters has become something of a busy time for keen whale watchers. Large whales are now so regular in our waters that sightings have become an expectation rather than a novelty."
Mr Donnelly said although "hunted to the edge of extinction during the industrial whaling era, humpback and southern right whales are making a comeback, though the latter still has a long way to go"
He said the east coast population of humpback whales is expected to reach 26,000 animals this season "which is close to the estimated pre-whaling numbers".
"The news is not so great for the slow to reproduce southern right whale, with their southeast Australian numbers estimated to be between just 224 and 251 individuals."
Mr Donnelly said up to 16 whales were sighted in the preceding weekend, bringing the number to 56 since 16 June 16. This time last year there had been 33 validated sightings.
"Whether this is a case of more whales, more people looking or a bit of both is yet to be determined but one thing's for sure, whales never fail to attract the attention of the public," he said.
Mr Donnelly said reports had also been made of vessels approaching too close to migrating whales.
State whale watching regulations limit boats to being no closer than 200 metres. Jet skis and other smaller craft were limited to 300 metres.
The Two Bays Whale Project is a citizen science project being run by the Dolphin Research Institute and Wildlife Coast Cruises for the public to report whale sightings and contribute images to a centralised database.
The data is used to compare sighting rates, monitor changes in behaviour and give an overall understanding of trends in numbers of visiting animals.
Log your whale sightings at www.dolphinresearch.org.au