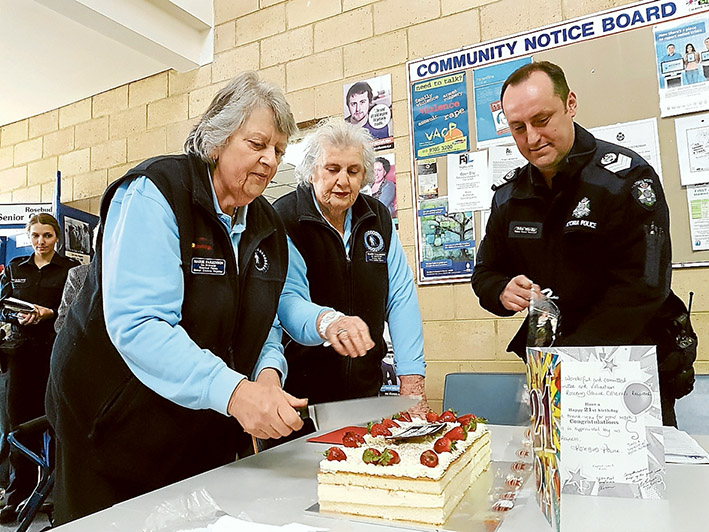 ROSEBUD Police Senior Citizens Register has clocked up 21 years of providing peace of mind to more than 3500 older residents of the southern peninsula.
Since 1995, co-ordinators Marie Parkinson and Elaine Wallbridge have worked with 35 other volunteers to provide assurance and security among senior citizens from Mornington to Portsea.
For 21 years Ms Parkinson has been overseeing and updating the growing client list, ensuring the welfare of disabled, retired or isolated elderly via regular phone calls and home visits, as well as providing ongoing support and coordination with Rosebud Police.
Ms Parkinson has been running things out of the same office in Rosebud station since the beginning. "At the end of the first year we were excited because we had 500 clients," she said.
"Nowadays, at its peak, there are over 4000 elderly across the peninsula using the benefits of the service and 20 other divisions are being set up across Victoria."
Over this time the need for police guidance in the running of the organisation has diminished, however, the coordination of the register's work by volunteers and Rosebud police has proved integral to staying engaged with older members of the community.
To mark the occasion on Tuesday, Rosebud police sang Happy Birthday to the volunteers – with Senior Sergeant John Wardle thanking them for their efforts. "It has been amazing to work alongside you," he said.
After the celebration, Ms Wallbridge praised the ongoing support of police: "It is nice when someone says thank you."
Rosebud Police Senior Citizens Register is run through fundraising and donations.
Details: call 5986 0400.
First published in the Southern Peninsula News – 2 August 2016