NEPEAN LEAGUE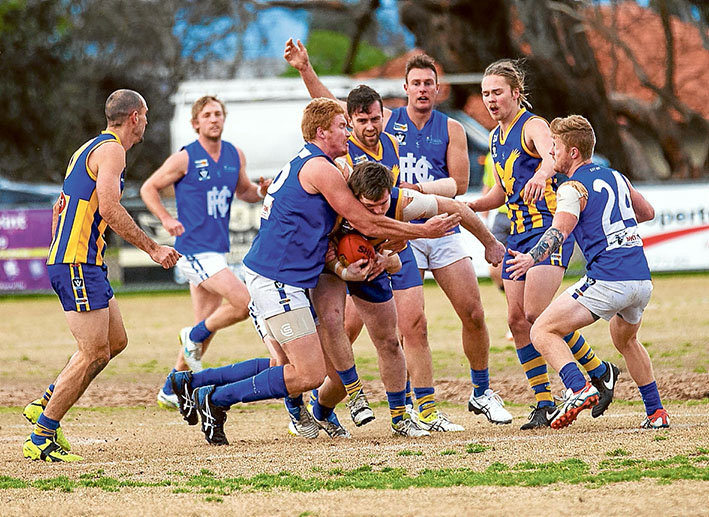 IT was mixed emotions for Sorrento Football Club on Saturday.
While a legend of the club in Brent 'Sticks' Kenyon was breaking the 25-year games record of Bernie Lynch of 263 games, reigning premier Rosebud was ending a finals streak which dates back to 2007.
While it's mathematically possible that Sorrento can still make finals, they must beat Red Hill in their one remaining game of the season in the final round and hope that Hastings gets belted by Crib Point and Frankston in their final two matches.
Sorrento got a taste of finals when Tony Blackford took over as a coach in 2002 and the Sharks played finals every season while he was there until 2005. They won the flag in 2004.
The Sharks missed in 2006 before Troy Schwarze came to the club in 2007. They played nine finals series straight, winning the 2008, 2010, 2011 and 2012 premierships.
In 2016, Sorrento will not be part of it.
Devastation aside, it shouldn't overshadow the enormous contribution of Kenyon, who was awarded Life Membership in 2013.
'Sticks' played his first and only senior game in 1998 before becoming a regular the following year.
In 2013 he became the coach of the reserves and played 14 senior games that season, before devoting his entire year to the reserves as coach in 2014.
In 2015, Kenyon played six senior games while still coaching the reserves before doing a big pre-season which resulted in him playing the majority of 2016.
Kenyon is a five-time premiership player and was voted Best on Ground in the 2012 premiership.
In addition to 264 senior games, Kenyon also played 30 under 18 and 36 reserves games. He coached the 2001 under 18 premiership.
On Saturday, despite playing a wonderful game for Sorrento, he couldn't stop the eight goal avalanche of Rosebud in the third quarter.
While 12 scoring shots to six should have seen Rosebud further ahead (11 points) at the major change, the home side went to work in the third and slammed on 8.5 to two behinds to go 10 goals up.
Season on the line, Sorrento rallied in the last to eventually go down by 34 points.
Keegan Downie booted four and Greg Bentley three for the winners while Rob Bos and Sean Downie were outstanding.
Red Hill ended Rye's season also.
The Demons got away to a flier and kicked five of the first six goals before the Hillmen booted nine unanswered goals in the second with the wind.
The eventual margin was 32 points, 14.8 (92) to 8.12 (60).
The Hillmen had nine goal kickers, Marcus Dal Lago and Tom McKinley booted three each.
In good news for Rye, coach Josh Moore has been reappointed for next season.
Somerville and Hastings put on a show that will be remembered as one of the best games of the season on Saturday.
Hastings threw everything they had and more at Somerville but it just wasn't enough to get over the line.
Rowan Hogenbirk was arguably the best player on the ground for his clearance and stoppage work, Luke Rowe was sensational with six goals, the human mullet Luke Burton's forward pressure was eye-catching and Josh Westerman's shut down job on Shaun Foster was match-winning.
The likes of Adrian Speedy, Jedd Sutton and Timmy Mcgennis were all relatively quiet, which says great things for the team as a whole.
The impressive thing for the Eagles was they got to work. Did the little things well. That's been a criticism in the past.
Hastings kept coming and Somerville kept responding.
Jake Hewitt was enormous off half back for the Blues and Mark Devereaux was great through the middle. Col McVeigh looked dangerous and booted three third quarter goals.
Despite a five goal last quarter, Pearcedale went down to Devon Meadows by 13 points, 11.10 (76) to 9.9 (63). Alex Doria booted six in a best on ground display for the Meadows.
Crib Point led all afternoon to beat Tyabb 10.12 (72) to 3.8 (26) while Frankston Bombers maintained their dominance at the top of the table with a 13.14 (92) to 6.4 (40) victory over Dromana. The Tigers have won just one game away from home this season. Brian O'Carroll showed some glimpses of the past in his best game since his return.