HASTINGS FNC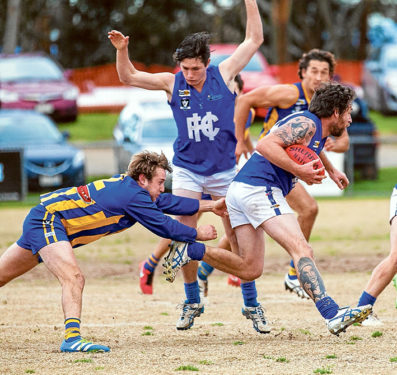 SATURDAY saw the Hastings Football/Netball Club travel to our neighbour Somerville, for what was going to a terrific game of local football between two very well drilled sides.
They did not disappoint in a fabulous hard fought clash that the Somerville Football/Netball club came away with a slender victory.
The game see sawed throughout the afternoon with not much between the two sides Hastings kicking with a strong breeze in the last quarter certainly had their chances to put the game to bed to only hit the post on a couple of occasions, it certainly shows that the club can mix it with the better sides in the competition.
Next Saturday Hastings is back at home against our arch enemy in the Crib Point Football/Netball Club in what will be another big test for the boys.
This Saturday Hastings Football/Netball Club vs Crib Point Football/Netball club at Hastings all games commence at 10.00 am.
Seniors Report
THE boys fought really hard and the intensity and hunger was there.
It was game of two quality sides going at it all day and unfortunately we come off second best.
The difference in the end was probably our turnovers we gifted them a few goals from direct turnovers and you just can't do that.
Disappointing to come out of the game with a loss as I felt the boys played well, we just need to fine tune and move forward to next week.
Reserves Report
THE boys were confident of a big upset as we travelled to Somerville who's season was on the line.
We talked about the pressure and work rate being good the last few weeks and we wanted to get some reward for effort and the boys came out and brought that pressure again and defended well in the first quarter into a very strong breeze.
When it was our turn with the wind our pressure went up and we went into half time right in the game and the boys were up and about but unfortunately Somerville kicked it up a gear in the third and we couldn't match them.
We managed to break even with them in the last but the damage was already done and we went to a side getting momentum back for the finals.
Disappointing loss but we look at the positives and try to build on them for the last few games of the year.
Best: A. Vinson, C. Biviano, J.Standfield
Under 19s Report
SATURDAY'S game against Somerville taught us a massive football lesson.
From the first bounce Somerville dominated the contest getting easy clearances and goals due to some very loose checking.
By half time the game was over and the boys had to play out the second half to regain some respect and show some pride for the jumper they were wearing.
Happily the boys responded and started to apply the sought of pressure that has seen us win games this year.
Jack Winton was outstanding and never gave up the fight.
In his best game for the club so far Jesse Shore stood up and followed their big ruck man around all day which negated his influence on the contest, well done Shorey.
Andy Jeffs switched to a wing and was coming in hard off the line limiting Somerville's midfield clearances. While Lachlan Barton showed some glimpses of the skill and determination that will one day see him play senior football for the club.
Overall a disappointing day but it gives us plenty to work on at training this week.
Netball Report
B and C grades faced very strong Somerville sides. They were both very strong defensively and proved too big a challenge for both C and B grades.
C grade improved their result from the first time we played them which was our goal heading into the match. However too many mistakes cost us the opportunity to close the score line. Courtney Astbury, Lauren Kerr and Monique Boer were great in defence giving our team plenty of opportunity to score.
Unfortunately in B grade we lost Amy Goodacre early in the match due to injury which made our day even harder. We hope it's a speedy recovery for her. After the injury we needed to steady and just play out the game as best we could.
Whilst the score line told its own story, we were able to see where usually we would have given up, we played the game out strongly indicating our progress from the beginning of the season.
We will need every bit of determination this week when we meet Crib Point on our home court.
***
Upcoming Functions:
Presidents Luncheon this Saturday from noon onwards home game v Crib Point. Special guest Mark Eustice former Essendon/Richmond/Sydney Swans Champ. Cost $30. Main meal included drinks at bar prices.
#getonboardthebluestrain