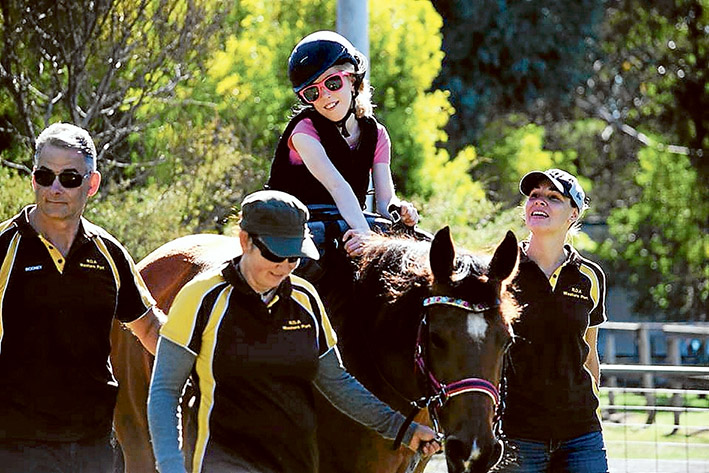 RIDING for the Disabled Western Port members are riding high – thanks to the offer of a new, more permanent home from Mornington Peninsula Shire.
They have entered into a new five-year agreement to use land at Woolleys Rd Bushland Reserve, Crib Point, for $520 a year with CPI increases.
This follows a one-year deal given to the riders last year to review their use of the land and, if suitable, to issue a new licence for a longer term. The shire last week offered the riders longer-term use of the land.
The group had previously agisted horses on private land near the reserve. However, it had poor pasture and fees were more than $5200 a year.
"We can save so much in fees and agistments," Riding for the Disabled Western Port president and coach Kate Makrikostas said.
"All the money from fees and donations can go back into development and programs."
The not-for-profit group helps those with disabilities of all ages to develop independence, add to their sense of freedom and to reach their equestrian goals. They provide adaptive coaching techniques and equipment.
Riding for the Disabled is a volunteer organisation has been running since 1970 and now has 38 centres, 1200 riders and 1100 volunteers across the state. The Western Port group was formed in 2012 and its riding programs at the Woolleys Rd reserve are alongside five other equestrian clubs.
Under the agreement with the shire it will be required to have public liability insurance of $20 million and be responsible for fencing and weed control.
The riding area of 17.8 hectares consists of two fenced paddocks of 9.4 hectares and 8.4 hectares. The land is cleared and abuts the southern boundary of the reserve. Access to the land is from Stony Point Rd and through the reserve.
"There have been no issues to date with the [riding group's] use of the land and it does not interfere with the use of the adjacent reserve," property operations team leader Greg Collins told council.
The use of the land by the riders is consistent with the Woolleys Rd Bushland Reserve master plan adopted by the council in 2013.