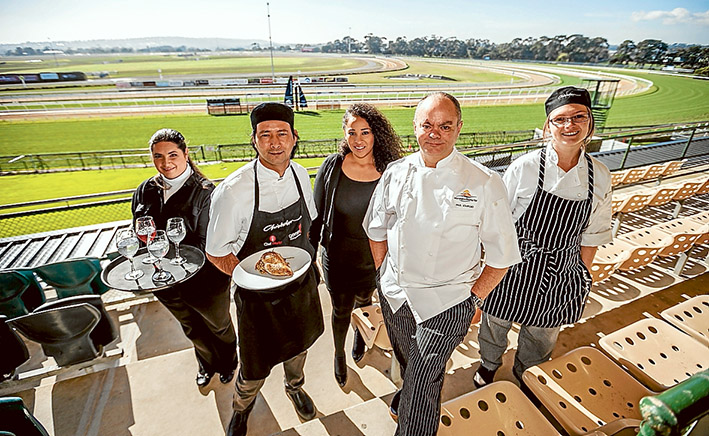 MORNINGTON Racecourse is "putting the peninsula on a plate" with a new food and beverage regime that supports local businesses, farms and workers.
Under a five-year program with Chisholm Institute 50 trainees each year will gain on-the-job experience working across race days and events.
As well as new management and staff, the racecourse is working with 30 businesses – from wineries, fruit and vegetable farms to meat and smallgoods suppliers – to ensure that what's served up on the plate represents the produce available on the peninsula.
Under the guidance of the new head of food and beverage operations, Paul Stafford, the racecourse has employed an extra 50 casual and part-time staff across the front of house, kitchen and back-of-house roster.
"The new ethos for food and beverage is part of Melbourne Racing Club's continued commitment to promoting the region," chief executive Brodie Arnhold said.
"Mornington racecourse is one of Victoria's premier regional event destinations.
"Last year we spent $5 million upgrading facilities and creating better environments for our guests to enjoy.
"Our vision for our food and beverage offering is the next step in cementing our place as one of the best regional event destinations in the state."
Chisholm's executive director youth, partnerships and regional education Stephen Varty said the new program would be a boon for students looking to enter the job market.
"We are excited about what this partnership will bring to our students, our staff and to the local community.
"This new program will not only contribute to quality education and training outcomes for Chisholm students, but will also provide them with paid employment in the fields of hospitality, events and sports turf management."
The Melbourne Racing Club is a not for profit club with about 25,000 members. The club conducts more than 70 race meetings annually at Caulfield, Mornington and Ladbrokes Park.