PENINSULA LEAGUE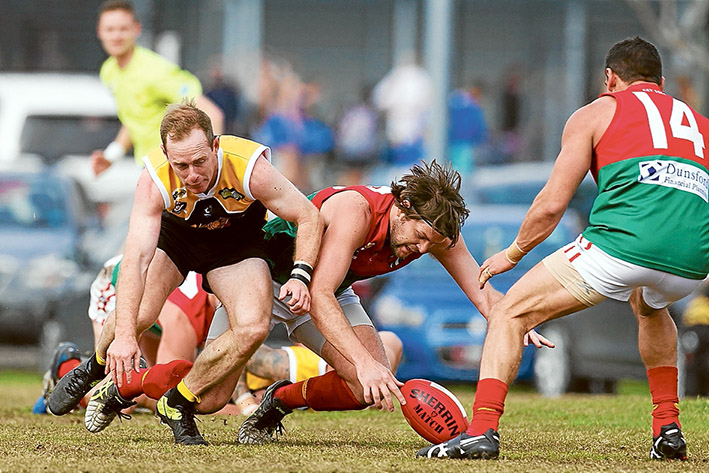 SEAFORD is in the top five after beating Karingal at Miles Reserve in MPNFL Peninsula Division on Saturday.
The Tigers crept into the top bracket after Edithvale were beaten by Mornington, however, the chances of Seaford maintaining that spot is questionable given they don't play this weekend and Edithvale play Karingal.
Seaford played its round 17 game against Pines on the Queen's Birthday weekend and went down by more than 10 goals.
Karingal won't be a lay down opposition for Edithvale at Ballam Park this weekend but given the Eagles have a place in the finals at stake, you would expect them to win.
If the Bulls do beat the Eagles, it will come down to the final home and away game of the season, where Seaford travel to Wooralla Drive to tackle Mt Eliza and Edithvale play at home to YCW.
Right now, the Tigers are two points clear of Edithvale, following their draw to Karingal earlier in the season, where they led by five goals at the 12 minute mark of the last quarter.
Percentage will have no bearing on the end result.
Edithvale beats Karingal this weekend and they play finals. Lose and they're out!
Edithvale started well against Mornington on Saturday but conceded 10 of the next 13 goals to go down 14.8 (92) to 7.16 (58).
The Eagles had no answer for Dale Whelan in attack who finished with five goals and Warwick Miller, who dictated terms all afternoon. Emilio Bitters also did an outstanding job on the dangerous Mark Meehan.
The Doggies have won three of their past five games, going down to Bonbeach by just 14 points and YCW by five points.
While 2016 is a write off, Mornington coach Chris Holcombe said the clubs was looking forward to pre-season in 2017.
"The vibe around the place is fantastic right now and the group is already talking about the pre-season," Holcombe said.
"We've been able to get games into a lot of kids and they are really starting to click now. They know what senior football is all about."
Holcombe said he expected to sit down with the club this week to discuss his coaching future.
"I believe that the club and the playing group are keen for me to go again and I'm really excited about the upcoming phase of the club – it's exciting," Holcombe said.
"The challenge for me will be the work/football balance and whether I can make that work," he said.
Bonbeach played some inspiring footy to celebrate the 200th game of superstar Shane McDonald, beating Mt Eliza by 72 points, 18.6 (114) to 6.6 (42).
The little master booted five goals in the victory and was the best player on the park. McDonald booted four of his five goals in the opening 15 minutes of the match. Beau Bailey also continues to impress for the Sharks.
It's the second time this season that Bonbeach has beaten Mt Eliza.
Redlegs coach Troy Shannon gave all the credit to Bonbeach.
"Bonbeach were harder and more desperate than us and we carried far too many passengers," Shannon said.
"We had a number of players with some question marks in big games and we got to see how they responded. It was good for the coaching staff, not to lose, but to have another good look at some coming up to finals," Shannon said.
Mt Eliza got within three goals of Bonbeach in the third quarter before the Sharks steadied late in the term to regain control.
Frankston YCW dominated Pines after quarter time, booting 16 goals to seven to win 18.17 (125) to 10.9 (69).
Anthony Bruhn was at his very best with five goals while Ryan Santon was also dominated with three majors.
Luke Potts was Pines' best with two goals.
The Pythons are on struggle street with full back Jack Fisher and key forward Tim Bongetti out for the season.
Coach Pat Swayne told the RPP Footy Show on Saturday morning that "Bongo (Bongetti) was an outside chance to play finals but would need to do everything right for that to happen".
Langwarrin spearhead Kieran Albanese booted a career-high seven goals in a best on ground performance against Chelsea on Saturday.
Joel Bateman was also brilliant for the Kangas with three goals and his little brother Josh also played a significant role in the victory.
The Kangas booted 11 goals to four after half time, winning 19.14 (128) to 12.7 (79).
Matty Baxter booted four goals for the Gulls and Grant Trew was one of their best.
Seaford had 29 scoring shots to Karingal's seven on Saturday, winning 13.16 (94) to 3.4 (22).
Seaford dominated the game and this time around, didn't allow the Bulls back into the contest.
Brayden Irving was back for the Tigers and he made a significant difference with three goals in a dominant performance.
Aaron Paxton was Karingal's best, along with Luke Duhig, who played his best game for the club.