HASTINGS FNC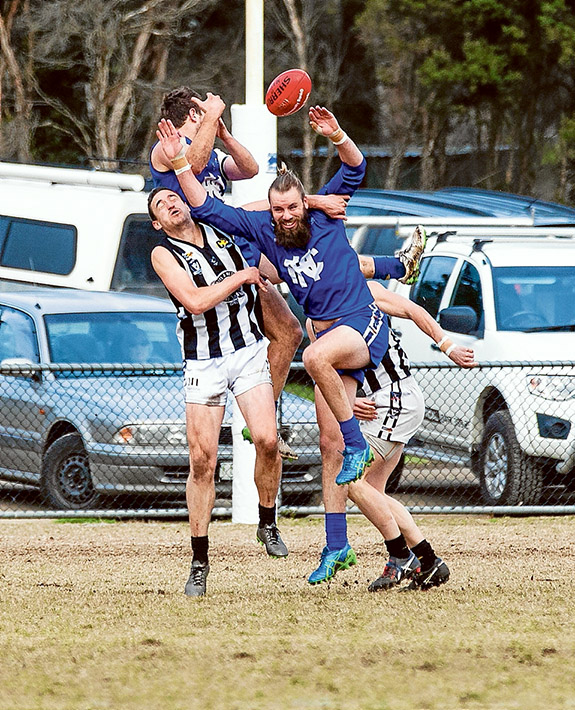 ON Saturday the Hastings Football/Netball Club played against its local rival Crib Point Football/Netball Club.
The Hastings boys certainly had to win this game to guarantee a spot in this year's Mornington Peninsula Nepean finals series. They achieved this with ease!
The boys played a great style of team orientated football to set up a great clash next week against Frankston Bombers at Frankston.
Now the club has secured another shot at this year's premiership, it's all systems go in preparations for this year's finals series.
Get down to training this week and show your support as we approach the final home and away game of season 2016.
On Saturday we had the grand opening of our new digital scoreboard which was a great hit with members and spectators alike. Well done to all involved in getting the scoreboard up and done.
Also on Saturday the club had our Presidents luncheon which was a fabulous day for the club with our special guest Mark Eustice (former Essendon/Richmond/Sydney Swan) telling his wonderful story which was most heartfelt. We wish Mark all the best for the future.
Out netballers showed much improvement in this round against a very solid Crib Point netball teams. Much could be taken away from their result and they now look forward to their last games of season 2016.
Seniors Report
THE boys had a fantastic day with a big win over local rival Crib Point.
The boys got off to a quick start and didn't stop there. I was very impressed with the spirit in which the game was played by both clubs and I was also pleased with some of the ball movement patterns that were produced by the boys during the game.
All in all it was a good day with the presidents lunch, new scoreboard up and now the boys a playing finals
Reserves Report
ON Saturday we came up against our traditional rivals from down the road in our last home game.
Unfortunately we were lacking in height and with two big forwards Crib Point took the advantage and we simply couldn't stop them.
We stayed with them all day but couldn't get any closer than the final margin of two goals.
The boys stuck the game out but we dropped away in patches and that cost us momentum.
Hopefully the boys put a big week in for the last game of the year and end the season on a high.
Best:Joel Standfield, Jay Austerberry.
Netball Report
THE C grade girls faced a fast-paced experienced Crib Point team in the first quarter, leaving them a little stunned.
They gathered themselves and competed strongly for the remainder of the match.
Jess Reid and Grace Williams combined well in goals and Riana Smallacombe's feeding into the goal circle was impressive.
B grade had a very tough and challenging game facing an experienced Crib Point side.
While they didn't get the points we were very proud of how the girls played out the game.
Their aim was to play their own game and work on minimizing their mistakes and improving their hold up defence skills.
All the girls put in and contributed to the game and we can be happy with the improvement we have made over the course of the season.
***
NEXT SATURDAY HASTNGS FNC vs FRANKSTON BOMBERS @ FRANKSTON Sages Road, Baxter.
All games start from 10.00 am onwards.
#getonboardthebluestrain