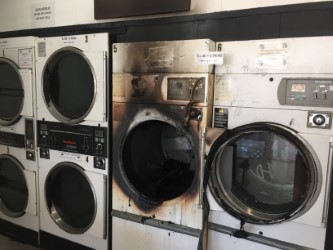 MT ELIZA and Mornington fire brigades rushed to extinguish a fire at a laundromat in Mt Eliza Sunday 7 August.
The Mt Eliza Pumper was first on the scene at 8.10am when crews found smoke billowing from the business and flames spurting from a dryer.
Firefighters wore breathing apparatus to quickly extinguish the fire and make the building safe, Mt Eliza Fire Brigade 4th Lieutenant Mark Turnham said.
"Using thermal imaging cameras and a gas detector, crews investigated the premise and found all to be OK."
Lieutenant Turnham said a passer-by had made a valiant attempt to put out the fire using a fire extinguisher. "This definitely assisted in the suppression of the fire," he said.
"Even though we appreciate the attempts made by this person, please ensure your health and safety is always the No. 1 priority as smoke can contain dangerous toxic gases.
"It was a great effort by all involved."