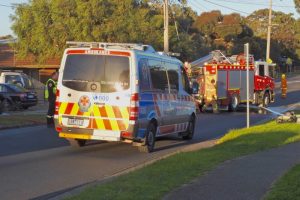 FIREFIGHTERS from Rosebud and Rye had to break down a laundry door to rescue a woman trapped in a burning house in Coleman Crescent, Rosebud, early this morning (Wednesday 10 August).
The woman aged in her 40s had suffered a cardiac arrest in the single storey brick veneer when the fire took hold in her bedroom.
Senior station officer Grant Kidd, of Rosebud CFA, said crews carried the non-responsive woman outside where she was revived by ambulance officers and airlifted to The Alfred hospital.
He said the woman called triple zero at 6.16am and fire crews arrived within minutes. He said the woman may have been smoking in bed and that there was lots of smoking paraphernalia in the house.
He said crews were forced to enter though the laundry as the woman had deadlocked the front door and removed the key. There was no smoke detector in the house and no keys in the deadlocked door. Bundles of household and personal items blocking walkways made access difficult.
Fire damage to the front of the house was severe with smoke and water damaging the remainder.
Eight firefighters from Rosebud, four from Rye and the Bayswater breathing apparatus crew brought the fire under control within an hour.
An Ambulance Victoria spokeswoman said the woman suffered burns to her airways as well as heart trouble and was in a critical condition.