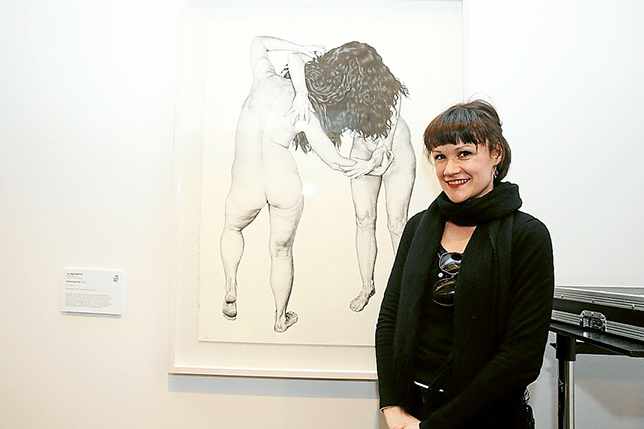 Twenty-six-year-old Torres Strait Islander Daniel O'Shane won the Mornington Peninsula Regional Gallery's National Works on Paper Prize of $15,000 sponsored by Beleura House & Garden.  National Works on Paper was established in 1998 and incorporated the former Spring Festival of Drawing and the Prints Acquisitive which began in 1973. The National Works on Paper is a biennial prize and exhibition organised by Mornington Peninsula Regional Gallery to discover and showcase the most outstanding contemporary works on paper from across the nation. Works acquired from the National Works on Paper become a part of the Mornington Peninsula Regional Gallery's collection – one of the most renowned works on paper collections in Australia.
The 2016 judges were Kirsty Grant, Director & CEO of the Heide Museum of Modern Art; Roger Butler, Senior Curator, Australian Prints and Drawings, National Gallery of Australia and Jane Alexander, Director Mornington Peninsula Regional Gallery. The judges commented:
"The winning work by Daniel O'Shane is remarkably accomplished and monumental in scale; created by a young artist, using the traditions of Torres Strait Islander art that has developed in Cairns over the last 20 years. Coming out of the histories of carving pearl shell, the intricacy of the cutting in this work is simply amazing."
O'Shane's work was chosen from the sixty-six artists shortlisted from around Australia from close to 1,000 entries for the $50,000 National Works on Paper acquisitions and awards. The prize, the most prestigious acquisitive prize and exhibition of its type in Australia, showcases recent works by artists working in the field of drawing, printmaking, digital prints and paper sculpture.
Victorian artist Lily Mae Martin was the winner of the $3500 Ursula Hoff Institute Emerging Artist Acquisitive Art Award 2016 for her work Wrestling three. Other pieces acquired include works by Jonas Ropponen, who grew up on the peninsula, Gracia Haby & Louise Jennison, Rew Hanks, Mark Hilton, Jake Homes, Deborah Kelly for her stop motion animated paper collage, Roy McIvor, Fiona McMonagle and Jim Pavlidis. The Friends of MPRG purchased Brian Robinson's Up in the Heavens.
The Mayor, Cr Graham Pittock says "The Mornington Peninsula Shire has provided critical funding support since the 1970s towards the MPRG's acclaimed National Works on Paper exhibition. This exhibition of contemporary works is held every second year at the Gallery and has resulted in its Permanent Collection becoming a significant and valuable community asset featuring works by legendary Australian artists such John Olsen, Rick Amor, Gloria Petyarre and Charles Blackman."
The 2016 National Works on Paper exhibition runs until 11 September 2016.
Come along to the Mornington Peninsula Regional Gallery's National Works on Paper Family Day, with 'drop-in' creative activities, Sunday 28 August, 2pm–4.30pm, $4 adults, $2 concession, no bookings required. Use the power of paper to create some crazy critters, wild dinosaur hats or vibrant wheels of colour. Enjoy a guided tour of the National Works on Paper exhibition at 3pm.