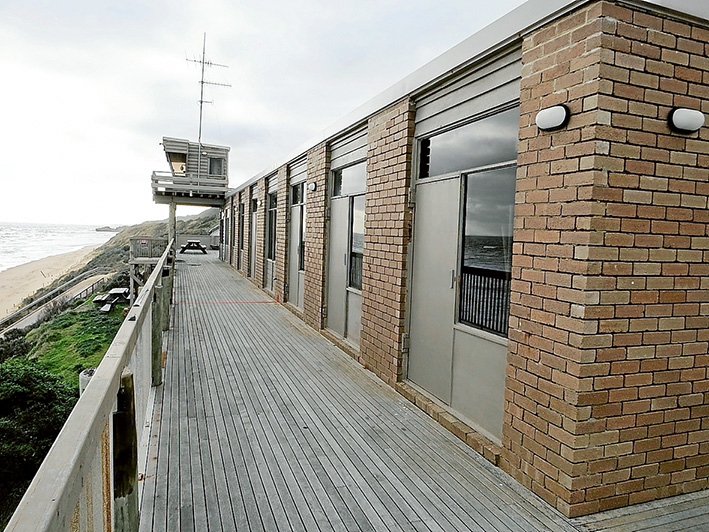 PORTSEA Life Saving Club members are "absolutely thrilled" with a $1 million grant from Mornington Peninsula Shire towards their proposed new clubhouse.
The money brings them closer to a planned $7.36 million rebuild of the 50-year-old club house and sub-structure works on the popular back beach.
Club president Stuart Rayner said the money to be paid over three years "moves us closer to our funding requirement" alongside a state government contribution of $1.5 million and the club's own fundraising of $3 million.
Members will set out to raise another $1 million over the next six months.
"We'll be hitting the road and explaining our cause to the locals who know of the good work we do and have seen our gradual demise," Mr Rayner said.
"We hope to be able to start works in February, which would see us delivering lifesaving and training services from a new clubhouse in time for the 2018 season."
Established in 1949 by a group of concerned surfers and home to 2000 members, Portsea is reportedly the third biggest lifesaving club in Victoria behind Ocean Grove and Anglesea.
Although set high above the surf, Mr Rayner said king tides lapped at the base of the dunes.
"We've seen the damage the water can do at Collaroy," he said, referred to the destruction of buildings during recent storms along the NSW coast.
Shire chief operating officer Alison Leighton said the club had sought $1.5 million for rebuilding works after drawing up preliminary plans and providing a quantity surveyor's estimate of costs.
The structure is said to be in poor condition and the "most degraded" lifesaving HQ in the state – yet its volunteers have saved more than 5300 lives and "undertaken immeasurable preventative actions", she said.
The grant, which equates to 16 per cent of construction costs, stacks up against the 26 per cent paid for works at Dromana Bay and 30 per cent paid for Mt Martha lifesaving clubs' redevelopment costs.
The Portsea club faces extra costs of $1 million for beach access, dune stabilisation, and foundation works in its highly exposed location. An array of six and 12-metre-deep piles will be sunk into the sand to protect the building during storms.
Nepean Ward Cr Tim Rodgers said the "vast contribution" made by the club over 65 years was a major factor in the council's support.
"There are sound reasons for the shire to support critical community facilities like the Portsea Surf Lifesaving Club. These clubs make a significant contribution to community safety, well-being and tourism.
"They promote a culture of volunteerism where members give their time, improve water safety skills and fitness and provide opportunities to socialise with like-minded people.
"Through its work, this club has had a great track record of empowering youth, providing them with valuable life skills and developing future leaders." Frankston Council provided $1.4 million to Seaford and $910,000 to Frankston lifesaving clubs' redevelopment in 2003-04.
First published in the Southern Peninsula News – 23 August 2016