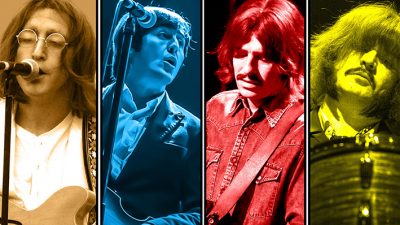 THERE can never be a reunion of The Beatles but the closest modern fans of the most influential band of the 1960s and beyond can see the next best thing in Frankston early next month.
The Bootleg Beatles, widely regarded by fans and music critics as the best Beatles tribute band in the world, will play the Frankston Arts Centre on Sunday 4 September and 'Paul McCartney', also known as Steve White, is looking forward to the show.
The 47-year-old joined The Bootleg Beatles about five years ago replacing original Paul who retired after two decades on the road.
Right-handed White learned to play bass left handed, such is the band's dedication to giving Beatles fans a gig-going experience as close to the real thing as possible.
"I practiced for ages and ages and eventually made the switch. The first gig I did playing left handed was awful, I was absolutely terrible. After I came off stage I said I'm never doing that again … but someone came up to me and said 'it's great to see a left-handed Paul' and they thought it was great."
White says he played in another 1960s covers band before being approached to join the bootleg Fab Four alongside 'John Lennon' (Adam Hastings), 'George Harrison' (Stephen Hill) and 'Ringo Starr' (Gordon Elsmore) but basically "played the John Lennon part, despite looking a lot like Paul, since he is originally a rhythm guitarist.
"Every show we turned up to, as soon as they saw me they said 'oh, you've got to be Paul' so eventually over time me and the bass player decided to swap over."
Music fans who turn up see The Bootleg Beatles in Frankston can look forward to a full Beatles show featuring songs, band costumes and stage projections from every stage of the iconic band's career.
They will hear some songs the originals themselves didn't perform since The Beatles effectively stopped being a touring band in 1966 shortly before releasing the classic Sgt. Pepper's Lonely Hearts Club Band album filled with layers of sonic trickery produced in the studio.
"Obviously, there's a staple of hits we have to do since the majority of people are, I guess, casual fans," White said.
"I could name 100 favourite Beatles songs. I do tend to favour Ticket to Ride because I feel that was the start of when the music started to become more self-indulgent and was kind of on the cusp of when things were shifting from the happy go lucky pop song to more contemporary music. It was so different to anything that came before it.
"And Twist and Shout lifts the roof and also Hey Jude is one of those that's a massive anthem."
White hasn't met Paul McCartney but he says the original incarnation of The Bootleg Beatles, who also supported UK Britpop rock 'n' roll stars Oasis on tour in their 1990s glory days, did catch up with McCartney and George Harrison on a few occasions.
"George asked 'Who is the Bootleg Brian Epstein? Because he's got all the money'," White said.
"McCartney told The Bootleg Beatles who were also playing the Queen's Jubilee concert 'not to play Hey Jude because I'm playing it'."
It's a full-time gig playing gigs around the globe as the bootleg Fab Four but White feels lucky to follow in the footsteps of The Beatles since he has been a huge fan of the band since the age of 8 when he remembers "playing their albums back to back over and over again and really, really loving it".
He urges Beatles fans in the Frankston area to come together for an evening of shared Beatlemania next month.
"Come along one and all, old and young, and let's have a big party together."
The Bootleg Beatles play the Frankston Arts Centre on Sunday 4 September, 8pm. Tickets for the 2 hour 15 minute show, including interval, are $65.50, $55.50 (FAC members and concession), $45 (under 16s), $55 each (groups of 10+). See artscentre.frankston.vic.gov.au or call FAC 9784 1060.