HASTINGS FNC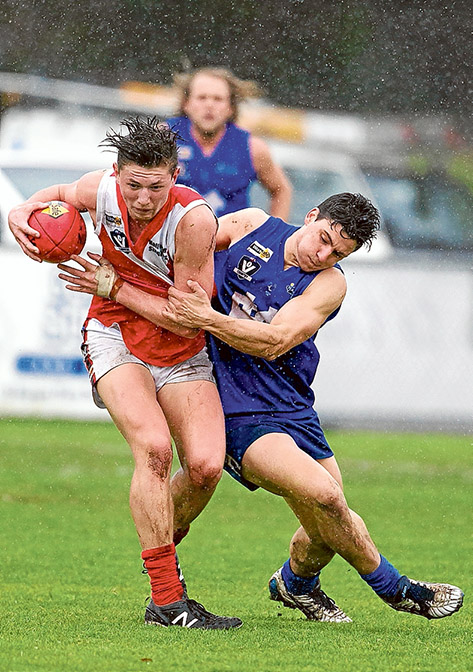 SUNDAY saw the Hastings Football/Netball Club come up against our nemesis in 2016, the Red Hill FNC, in the elimination final played at Rosebud.
On a slightly overcast day our boys certainly came to play. You could tell even before the opening bounce they seemed very focused on the job at hand.
In the first quarter Red Hill got out to a two goal advantage before our boys kicked a couple into the wind to be down at the quarter time break by only a few points.
It was shaping up as one of the toughest games of football seen in a long time with every contest pure in every sense of the word.
The boys got to kick with aid of a slight wind advantage in the second quarter, and started in the same fashion that they ended the first.
With smooth moving play they kicking a couple of quick goals to take the ascendancy. The boys didn't take their foot off the pedal and slotted  five goals for the quarter to go in at the half time break with an 18 point lead.
After half time, with Red Hill now kicking with the aid of the breeze, it was going to be interesting to see how we reacted.
In true Hastings spirit, and with the aid of a resilient backline, the boys keep Red Hill goalless which was a marvellous effort. On top of that, they kicked two goals to stretch the lead to 32 points in what was proving to be a low scoring game.
In the last quarter it was a slog-fest with our boys just wanting to get out of the contest with no injuries.
Well done to all the players, coaches and officials on a job well done.
This week we take on our rivals Somerville Football/Netball Club at Devon Meadows in what will be another huge contest for our boys.
If you have time please make the effort and get along and support the boys in their quest for the ultimate prize.
This Sunday HASTINGS FNC vs SOMERVILLE FNC at Devon Meadows.
***
Upcoming Functions:
Presentation Night 22nd October, 2016 from 6.00pm
Cost $50 Single, Under 19s $35 Single
at The Hastings Club, For bookings call 5979 1740.
#getonboardthebluestrain
First published in the Western Port News – 23 August 2016