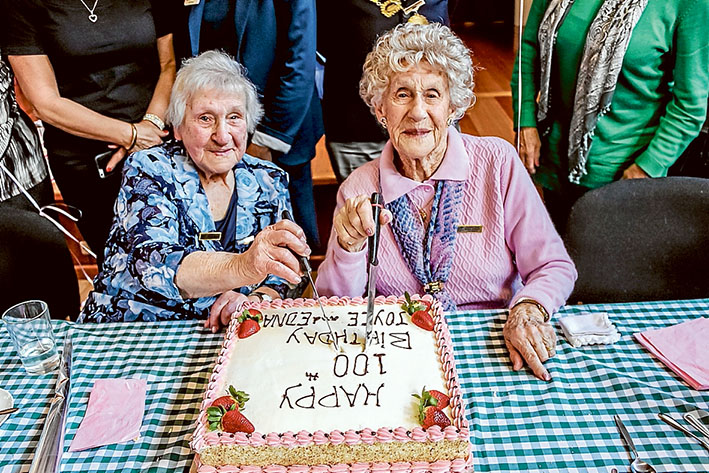 TOOTGAROOK Senior Citizens put on a special afternoon tea for long-serving members Edna Arnot and Joyce Milne last week to mark their 100th birthdays.
Ms Milne and others had been having meetings in their homes before the club was built in November 1967, president Sheila Manser said.
"She joined in August 1969 and, as a foundation member, she and others worked hard to get things for the club by collecting newspapers, bottle drives and endless cake stalls.
"Once they moved into the hall they had the trading table which brought in more money which went to putting on the new bowling area which is always in use."
Ms Milne has been involved in so many things within the club that she was made a life member in 1983-84. "It's a pity we don't see Joyce as often as we would like since she moved in with her daughter Beth at Noble Park but, when she's at Rosebud, she always makes sure to visit – so keep knitting, girls in the craft room, as Joyce will be after your knitted coat hangers," Ms Manser said.
Ms Arnot joined the club in June 1981, enjoying tai chi, keeping fit, square dancing and the variety group.
"Edna and Betty Carter made all the costumes for the square dancing," Ms Manser said. "When we needed anything for the variety shows Edna would always be saying, 'I have this bit of red material which I think would make some nice jackets …'
"Well, we had eight guardsmen so out comes this material about 18 inches wide and she dressed them all in these beautiful red jackets with gold braid. The sad thing was that we only wore them once."
First published in the Southern Peninsula News – 30 August 2016