SOCCER
By Craig MacKenzie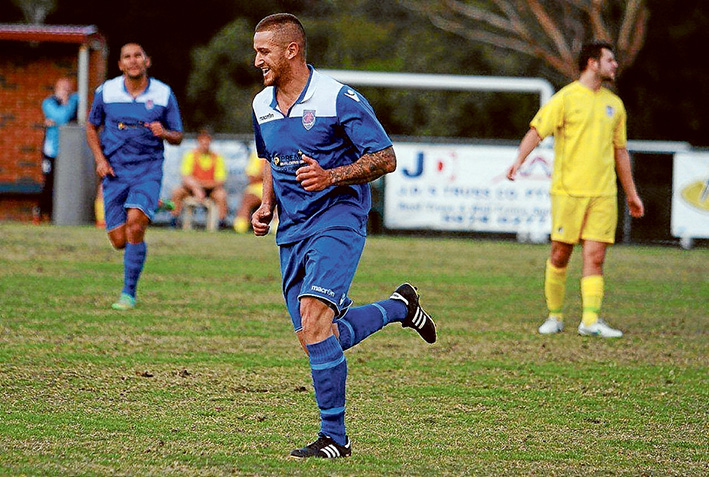 FRANKSTON Pines looks doomed to relegation from State 1 South-East while Langwarrin dented Malvern City's championship aspirations in last weekend's catch-up round.
Pines slumped to a 4-1 loss at home to fellow struggler Berwick City on Saturday and is anchored to the foot of the table while Langwarrin dealt a body blow to Malvern City with a 1-0 victory at Lawton Park.
A pivotal moment in the Pines contest came in the 16th minute when the referee overruled the linesman who had flagged for offside and was ignored initially.
After Dejan Radojicic struck home a firm shot from close range the referee consulted the linesman then awarded the goal leaving Pines fans bewildered and upset.
Pines struck the bar on three occasions throughout the contest highlighted in the 22nd minute by a stunning display of close control and movement at pace by Jordan Avraham.
After jinking past a couple of opponents he unleashed a stinging strike that smashed against the underside of the bar and was scrambled clear.
In the 24th minute Pines sweeper Ben Caffrey chose to push forward of his defence leaving a flat back three and Berwick didn't need a second invitation as former Pines striker Orlando Meijas made it 2-0.
Radojicic put the game out of Pines' reach in the 33rd minute after Berwick again broke forward with Meijas in an offside position but this time the linesman failed to flag.
Caffrey was replaced at half-time by Matthew Hames who went up front while striker Ioasa Saemo linked up with Nick Lekakis in central defence.
Pines kept pressing and Avraham unleashed a volley in the 53rd minute that was tipped over by Berwick custodian Jeremy Figler.
His counterpart, Pines keeper James Laminski, had a fine game and was unlucky to concede a fourth goal in the 78th minute.
Berwick again caught Pines on the break and the ball was moved quickly to Franco Costantino on the left of the Pines area whose low shot bounced in front of a diving Laminski and crept inside the near post.
Pines' response was classy but too little and far too late.
It came in the 82nd minute from a superb Matt Davis free kick after second half substitute Stefan Soler had been fouled on one of his many solo runs.
League leader Mornington travelled to Mooroolbark on Saturday only to find out for the second time this season that the pitch was unplayable.
Football Federation Victoria had told Mornington a few days earlier that the pitch was playable and the game would proceed.
Mornington has booked Kingston City's ground for Tuesday night this week hoping to gain FFV approval for the Mooroolbark match to finally go ahead but was waiting for the federation to respond to its request as we went to press.
Langwarrin did Mornington a favour by knocking off high-flying Malvern City 1-0 at Lawton Park on Saturday.
Langy's Chris Driver and Alex Van Heerwarden had standout games against a strong Malvern side who dominated play for long periods.
Malvern striker Ken Murray came close on a couple of occasions but was denied by two saves from Robert Acs and the goalpost on another occasion with a thumping header from a corner.
In the second half the home side showed a lot more endeavour with Koray Suat forcing a superb save from Malvern keeper Gianmarco D'Oria and Caleb Nicholes posing a constant threat to Malvern's central defensive pairing of Jake Maloney and Lloyd Clothier.
The decisive moment came in the 66th minute when Langy teenager Nabil Mozaffaruddin rose high to head goalwards.
D'Oria could only parry the ball onto the crossbar and Mozaffaruddin rifled home the rebound from a tight angle.
Despite Malvern pressing hard over the final 20 minutes the home team showed great spirit and utilised all three subs in an endeavour to keep fresh legs on the park.
It was a fine result for Langy who had Andy McIntyre pull out injured just prior to kick-off joining the injured list of Sam Scott, Dylan Kilner and John Guthrie.
Harry McCartney reports that Seaford United left it late to edge out 10-man Sandringham 3-2 in their State 2 South-East contest at Sillitoe Reserve on Saturday.
It took just eight minutes for Mitch Lander to unlock the Sandy defence with a strike into the bottom left-hand corner of goal.
Nick Ormond then made it 2-0 with a long-range strike that beat Sandy keeper Corey Skinner and in the 40th minute Lander broke clear only to be brought down by Sandy defender John Buckley who was sent off.
The resulting free kick from Paul McGuire hit the upright and bounced clear.
Just before the interval Sandy counter-attacked and although John Cronin-Diyou was denied initially by Seaford keeper Paul Digiorgio he couldn't stop Cameron Gilhooley from following up for an easy tap-in to make it 2-1.
Two minutes into the second half and the 10 men were level after Sandy striker Matt McCoy latched on to a mistake from the Seaford defence to easily sidefoot the ball past an advancing Digiorgio.
Seaford had the bulk of possession in the last 40 minutes but Sandy seemed set to hold out until a low toe-poke across the six-yard box was tucked away by Seaford substitute Cam Syratt for the winner.
Peninsula Strikers were overrun 5-0 by visitor St Kilda in their State 2 South-East clash on Saturday.
Scorers were Conor Gaul (72nd minute, 82nd and 87th), Robson Buckley (26th) and John Connolly (39th).
The result gave St Kilda a remarkable fifth straight title and catapulted the club into State 1 South-East next season and the verge of NPL status.
"They're different class both on the field and off," said Strikers president Mark Brandon.
"When our keeper Ritchie (Ojo) broke his leg against them they organised a whiparound on the day and they did the same thing after the match on Saturday which says a lot about them as a club."
NEXT WEEKEND'S GAMES – Saturday, 3 September, 3pm:
Frankston Pines v Mornington (Monterey Reserve)
Berwick City v Langwarrin (Jack Thomas Reserve)
Peninsula Strikers v Caulfield Utd Cobras (Centenary Park)
Old Scotch v Seaford Utd (H.A. Smith Reserve)
Keysborough v Skye Utd (Coomoora Reserve)
Rosebud Heart v Chelsea (Truemans Road Recreation Reserve)
Baxter v East Bentleigh (Baxter Park)