THE story of our lives is often more interesting than any work of fiction. And it provides the inspiration for Rosebud Secondary College's Living Library, where the "books" are people and the "reading" consists of conversation.
"Each year, as part of Book Week, we invite people to come in as living 'books', which the students 'borrow' for a short time, to hear their story and ask them questions," head librarian Nicolle Brigden said.
"These conversations allow our students to interact with people they may never otherwise meet, which, in turn, challenges and inspires their thinking."
Last week, students were able to share the stories of magician Cath Jamison, artist Justine McNamara, environmentalist Simon Mulvany and Buddhist monk Gen Kelsang Dornying.
This year's Living Library also included three former students, with local businesswoman Gemma Linnell and 2016 reality TV contestants Charlie Sartori and Mitch Skvor sharing the highs and lows of life since graduation.
Nothing is off-limits during the Living Library, and participants were able to "pick the brains" of local actor Carole Patullo, palliative care nurse Heather Wilson and novelist Melinda Devine. School principal Andrew Nicholls also chatted to students about his passion for bike racing.
"It's easy to think you can size someone up based on how they look or what they do, but the stories shared in the Living Library prove you should never judge a book by its cover," Ms Brigden said.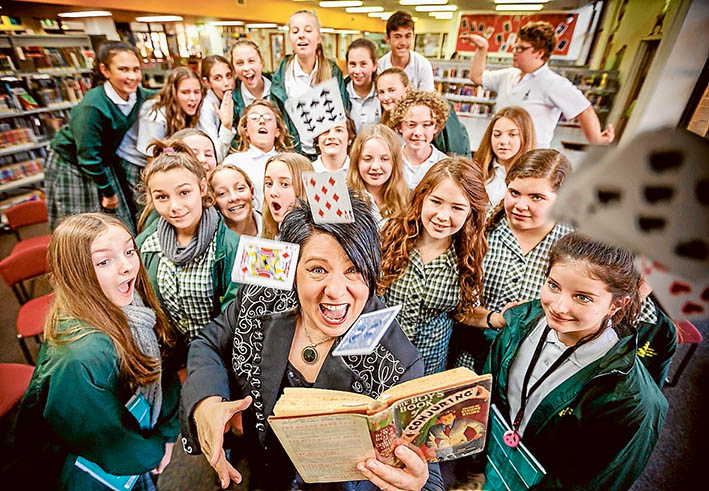 Trickster guards the magic code
ROSEBUD'S Cath Jamison became interested in magic as a child and has spent the past 25 years mastering her skills to become a magician.
Fascinated by the psychology of human behaviour, Jamison has an in-depth knowledge of clairvoyance, telepathy and telekinesis.
Those curious about magic can borrow Jamison as a living "book", and see if they can get her to break the Magician's Code and reveal her tricks.     
Jamison is pictured with a book she's had since she started learning about magic: The Boy's Book of Conjuring.
"No magic books for girls existed back then – and probably still don't," she said.
First published in the Southern Peninsula News – 30 August 2016