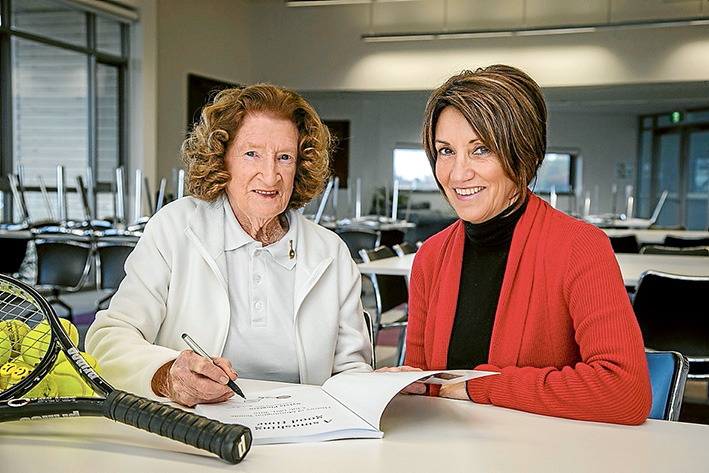 MORNINGTON Tennis Club's long-time life member Sylvia Pingiaro has written a history of the club, which turned 125 in April.
Mrs Pingiaro started collecting newspaper clippings about the club soon after she joined it in 1943 as a teenager, little knowing she would one day write a book.
The first-time author started playing tennis when she attended Frankston High School, and joined Mornington's club soon after, playing on asphalt courts built in 1891 on the corner of Queen and Vancouver streets where the library now stands.
The book had its genesis in early 2006 when the idea lobbed at a club committee meeting.
"As I was the oldest member, Mornington born and bred, and had strong family connections from the 1930s when my brother Jim Fyffe was a member, I volunteered to take on the task," she told The News.
Following Jim to the club were his sisters Edna, Pat, the author Sylvia, and Joy.
Their father David and his older brother John operated a grocery and general store in Main St, Mornington, from about 1920 until it was sold to Bill Pratt in 1946. (Pratt had three "self-service" grocery stores including one in Frankston, his home town, when he sold to United States-based Safeway in 1963, the start of the supermarket era in Australia.)
The store on the corner of Main and Albert streets had been a general store since 1859 when pioneer Thomas Allchin built it for his wife Sarah to run.
Mrs Pingiaro collected clippings over many years "spurred on by my children joining the club and experiencing varying degrees of success".
The club was at Queen St between 1891 and 1954 when it and the Shire of Mornington built clay courts and a clubhouse opposite the football ground.
The club's third (and probably final) home is now at Civic Reserve, known as Mornington Tennis Centre, which the club moved to in October 2014.
Mrs Pingiaro's book, A smashing good time: history of Mornington Tennis Club 1891–2016, blends club history with the history of the town and wider peninsula.
The book's "cast of characters" include many prominent residents who were club members in the early days when the town had a small population and many people were members of multiple community and sporting groups.
The book reveals the club's annual ball at the Mechanics Hall was once a social highlight. It was broadcast on a local radio station where women's dresses were described, names of dancers mentioned, and the "belle of the ball" announced.
Just before the First World War, prominent Melbourne stockbroker Alfred Rutter Clarke, who owned a "country property" called Ellerslie (later to become the guest house Dava Lodge on the Esplanade; now private homes), loved nothing better than having some of the town's prominent tennis-playing citizens come to his property and receive a good thrashing followed by a fabulous lunch and afternoon tea. Two of the club's best-known members were Harry Hopman and his brother Jack, who came to live in Mornington shortly after the Second World War when they set up a company to make gut strings for tennis and badminton racquets.
The brothers rented two houses in the town, and both played and coached tennis at the Queen Street courts. "I recall Harry coaching my sister Joy for no charge," Mrs Pingiaro said. Jack was club president in the late 1940s before moving back to NSW.
Under Harry Hopman, Australia won the Davis Cup 16 times. In 1961 Jack Hopman went to coach in Cambodia, helping make it the dominant tennis nation in the region.
Mrs Pingiaro said her book includes general information about "the fabulous game of tennis, which has kept me fascinated for more than 70 years. It's a snapshot of different eras of Mornington Tennis Club". Information came from the newspaper clippings as well as local histories and the online resource Trove.
After raising a family of six, Mrs Pingiaro played veterans tennis overseas as well as throughout Australia and New Zealand. The club made her a life member in 1976.
A smashing good time contains more than 50 photos and illustrations as well as historical "breakouts" and club records. It has been published by the author and is available by emailing Sylvia.Pingiaro@bigpond.com
Mike Hast, the writer of this article, helped Sylvia Pingiaro produce her book.