HASTINGS FNC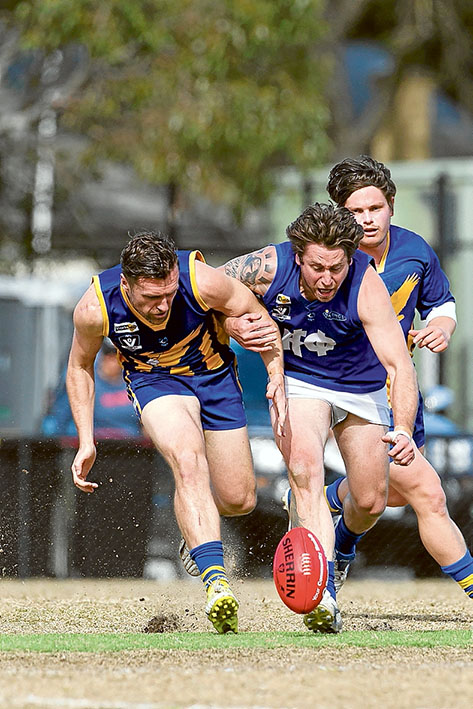 SATURDAY saw Hastings Football/Netball Club take on Western Port rival Somerville Football/Netball Club in the first semi-final played at Devon Meadows.
With a real sense of finals football in the air on a beautiful day and with the ground looking in peak condition the Hastings side were coming up against last year's grand final winner and favourites.
Our boys came out and played some fabulous team oriented football to set the game up with a five goal quarter with our forwards playing in front and marking everything that came there way, they moved into the 2nd quarter with a four goal lead.
The game was now starting to tighten with Somerville kicking a couple of goals to be only a few goals down. Hastings defensive line was holding as the pressure was outstanding by both teams this game was turning into a fabulous contest with every clash between the players very physical.
Half time arrived with the Hastings side holding a slender lead at the main break.
After half time the quarter was very similar to the 2nd quarter with Somerville putting a lot of pressure on the Hastings side but Hastings were able to withhold this with our midfield group working as hard as any time they have throughout the year.
With third quarter ending Hastings were now three points down with Somerville kicking to the scoring end in the last quarter.
With an inspiring three quarter time speech by our senior coach in front of a large supporter base the boys came out and played the most fabulous last quarter seen at Hastings for a very long time.
They kicked five goals to zip and turned the game on its head with our players finishing the tough contest full of run was inspirational.
Eell done to all involved it was great contest throughout the day.
Now the club moves onto the Preliminary Final, where we met up with last year's premiers Rosebud FNC with the game to played at Tyabb.
What a fabulous opportunity for our supporters to get along and make this game into a home final so the club asks every member of the Hastings Football/Netball club to get along and support the boys in their quest to play off in this year Grand Final.
Next Game:
This Saturday Hastings FNC vs Rosebud FNC at Tyabb – game starts at 2.00 pm.
Upcoming Function:
Presentation Night 22nd October – Bookings can be made by contacting the club on 5979 1740.
Cost is $50 Single.
WE NEED YOU!
Contact Western Ports leading Junior Club today. Juniors required for season 2017.
Contact club President Laurie Howard or Carol Buckley.
Under 10, 11, 12, 13, 14, 15, 16 & 17's position available.