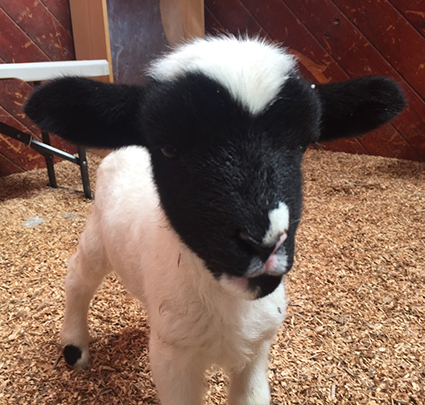 RALPH the lamb is back!
Defying "million-to-one odds" the black-faced lamb made it home to the Big Goose children's farm on Friday morning, much to the delight of owner Justin Orr.
The five-week-old bottle-fed cutie survived 13 nights out in the wild after allegedly being stolen from the Mornington-Tyabb Rd animal park, overnight Sunday 21 August.
An overjoyed Mr Orr said Ralph ran up to road workers putting up road signs in Tyabb about 7km from where he was allegedly dumped by thieves. They recognised him from media reports and contacted the farm.
The lamb has distinctive markings with a black face and ears and round black spot on his right cloven hoof.
"I wouldn't have put much money on him surviving," Mr Orr admitted.
"But he's looking pretty good and we are bottle feeding him small amounts of milk to get him back to normal. We will get him to the vet this afternoon."
Detectives on Wednesday arrested a 21-year-old Moorooduc man and charged him with theft, handling stolen goods and animal cruelty. He will appear at Frankston Magistrates' Court, 4 November.
A 25-year-old Cranbourne man and 21-year-old Tyabb man were also arrested but have been released pending further inquiries.
Ralph was named following a competition run by the park.
Detectives had been told Ralph was dumped in a paddock on the Mornington-Tyabb Rd, near the intersection of Coolart Rd, Moorooduc, but had been unable to find him.
His return was described as a "miracle" by Detective Senior Sergeant Miro Majstorovic.