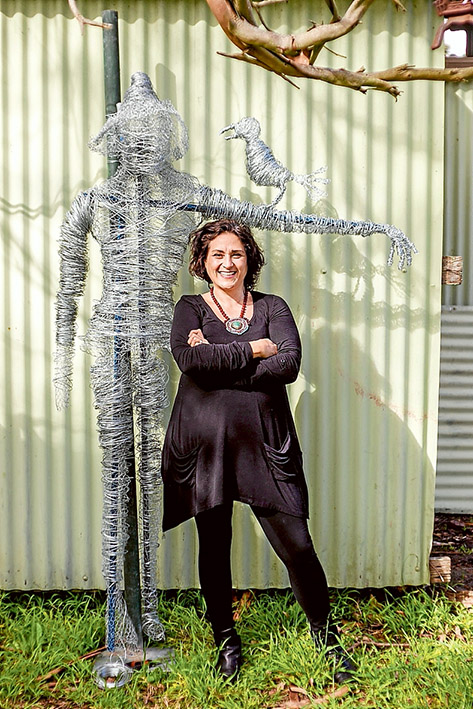 WIRE sculptor Annie Glass is patiently bending and winding galvanised steel wire around her first scarecrow as a tribute to the classic children's movie the Wizard of Oz.
"I've always wanted an opportunity to do something artistic based around my favourite movie," Glass said.
Her larger-than-life scarecrow will have an Australian flavour with a cocky flying around him, a crow on his arm and Dorothy's dog Toto nipping at his heels.
Glass is building her scarecrow for the inaugural Artist's Permanent Sculpture category in the Hinterland Scarecrow Festival Trail, 16 September-3 October.
For the first time, there's a $2000 prize package for artists to be part of the festival and they can create a permanent sculpture that is traditional or relates to the Aussie Icon theme. It must be made out of durable materials, such as metal, stone, fibreglass, wire or wood, and be suitable for the outdoors.
"I started with a metal frame covered with chicken wire and now I'm adding the detail and personality," Glass said.
"I like the interaction between animals and people and I also like to add movement and humour to my work.  I find people identify with my work easily as it reminds them of their childhoods."
Glass moved to Red Hill earlier this year with her husband Rick and their three children to set up her business. "There's so much open space down here to work and it's inspiring," she said.
If artists live outside the hinterland region, festival organisers will find a temporary home for their sculpture in either Red Hill, Red Hill South, Main Ridge, Arthurs Seat, Balnarring, Merricks , Merricks North and inland near Dromana for the festival's duration.
Scarecrows can be linked on the festival website for the artist to negotiate sales directly with potential buyers.
As well as the $1500 first prize, the winning scarecrow can be loaned to the festival organisers and be displayed in the Red Hill Community Park for up to two years for the community to enjoy, subject to council approval.
Artists and anyone wanting to make a scarecrow for the festival can register online at scarecrowfestival.org.au
The 2016 Artist's Scarecrow competition is a forerunner for a planned permanent scarecrow sculpture trail for the hinterland region. It is sponsored by the Mornington Peninsula Shire's Arts & Culture unit and run by the Hinterland Tourism Association.
First published in the Southern Peninsula News – 6 September 2016