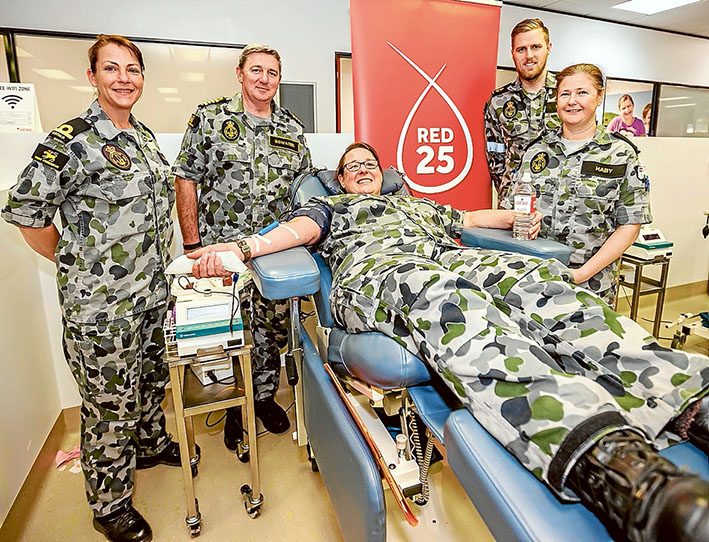 HMAS Cerberus personnel donated blood at the Frankston Donor Centre last week as part of the Defence Blood Challenge. They included Commanding Officer Captain Stephen Bowater, Executive Officer Commander Melanie Verho, Leading Seaman Jordan Manie and Able Seaman Debbie Haby.
They were part of an annual event, now in its eighth year, which challenges Navy, Army, Air Force and Defence staff to make the most blood donations from September to December.
Last year, Defence Force personnel gave more than 6400 blood donations –
enough to potentially save 19,200 lives. This year, they are hoping to donate enough to save the lives of more than 21,000 people.
"Each year, the Defence Blood Challenge grows and sees more lives are saved," Blood Service spokesperson Wendy Todd said.
"Given their already outstanding contribution to the nation, it is wonderful to see our Navy Defence personnel find the time to donate blood.
"Every donation helps to save three lives, including the lives of cancer patients, people with blood disorders, unborn babies, mothers during childbirth, trauma victims and even ADF military members."
The challenge is a part of the Blood Service's Red25 program, in which groups and organisations around Australia unite to save lives through blood donations. Its mission is to achieve 25 per cent of Australia's blood donations.
To make an appointment to give blood call 13 14 95 or visit donateblood.com.au
First published in the Western Port News – 6 September 2016