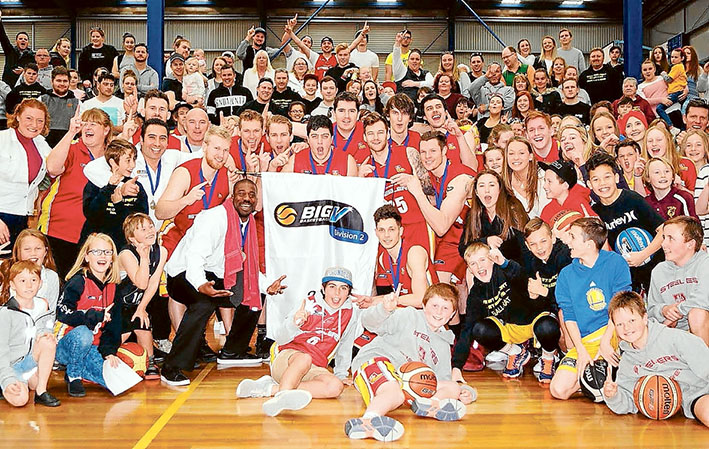 By Jarrod Potter
FIRE may have taken their basketball home in May, but 126 days later the Western Port Steelers have brought victory back to Somerville.
Despite the loss of the Somerville Recreation and Community Centre, the Steelers will remember 2016 as the year they broke through to win the Big V Division 2 Men's championship victory on Sunday.
The Steelers had to do it the hard way – at their second home with Southern Peninsula Basketball Association and the Hillview Stadium – after conceding a 64-59 loss to Coburg in the first match of the series.
Western Port fought back on Saturday to win 76-57, but not despite a few anxious moments while its big lead was whittled down to force the third, decisive clash, on Sunday.
Western Port shot away from the start on the back of captain Ricki DeHaan (21 points), Matthew Orchard-Astley (18 points), Corey Bond (11 points) and Grand Final MVP Ryan Tindal (13 points, 11 rebounds).
But Coburg didn't give up and slashed a 20-point gap to four near the start of the last term. From there the Steelers dug in and fought for everything – every rebound, hustling for every possession and slamming through the Giants to push away bit by bit.
Finally, when the siren went, Steelers coach Kenny Brunner slumped to the floor with joy as his side claimed the 76-57 win and the pennant.
The trademark maroon towel which seemingly lives around Brunner's neck had a different purpose on Sunday – to wipe away tears of joy.
"Nothing can describe this feeling," he said. "Personally I've been a championship player my whole career and now I'm a championship coach with these guys.
"To come back after losing last year in a heartbreaking game three and then win today with so much pressure on them, shows the type of character these guys have."
Brunner believes losing the home court played a crucial role throughout the year.
"Losing the stadium brought us back, made us stronger together," Brunner said. "It made us all realise we can't take stuff for granted and we've been on the road since the beginning of May.
"It's hard to go on the road, not having a stadium … I think it brought the guys closer together and, once we started getting some wins, the guys realised no matter where we play, as long as we play together, we'll be OK.
Western Port Basketball Association president James Langford said there was more good news to come with the Somerville Recreation and Community Centre reconstruction about to go to tender as the Steelerdome moves towards a newer, grander four-court vision.
First published in the Western Port News – 6 September 2016