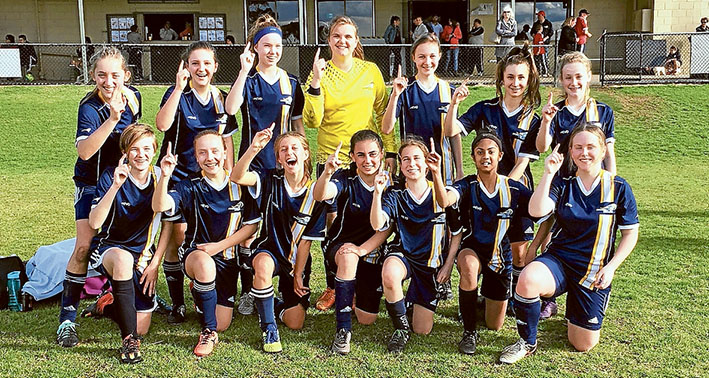 THE girls at Peninsula Strikers are showing them how it's done in the fast-paced and growing world of female soccer.
The club finished the season last year mid field but has turned the tables on the competition to scoop three major winds this year.
Coach James Waller said the Peninsula Strikers under-13/14 girls showed their spirit early by winning the pre-season event at Darebin, then later becoming league winners for the FFV south east under-13/14B league, before winning the state championships against the undefeated Watsonia Heights last Sunday week.
Mr Waller said the grand final at Watsonia was nail biting, with forward Jasmine Ristevski getting a hat trick and 32 goals for the season after extra time, and strikers winning 5-4 on penalties.
"Our keeper and player of the season Tahlia Jackson, who saved Watsonia's first penalty, finished the job by scoring the last spot kick".
Mr Waller said the club started the season with fairly low expectations, but the girls had worked hard and were getting the recognition they deserved.
"It's a real achievement as the core team of 14 are small in stature, but they have used great teamwork, spirit and self-belief to beat a lot of bigger stronger teams."
Club president Steve Schreck said the club was growing in size and success.
"In 2016 we have 111 girls, with 55 new to the club, we have eight all-girls teams, with more girls in the under-7 squads too."
He said Peninsula Strikers remained the destination club for girls for "fun and development" in the southern Victoria region.