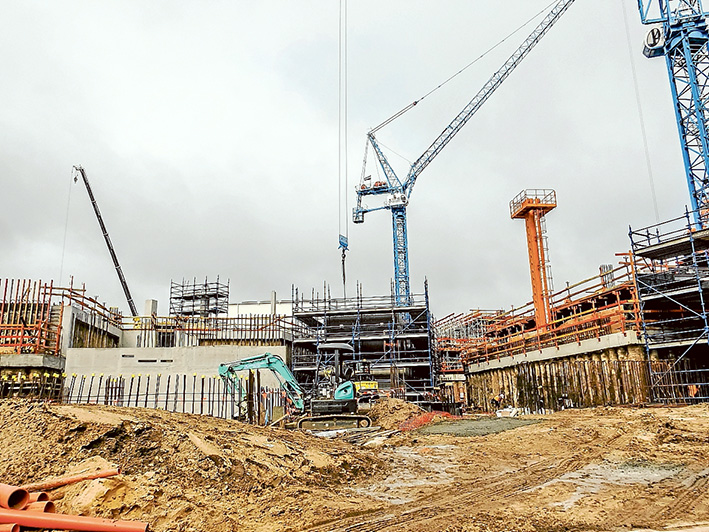 CAPE Schanck residents upset over what they say is unjustifiable construction noise at the new RACV resort believe their concerns are not being given "sufficient weight" by Mornington Peninsula Shire.
They claim the council has failed to properly consider or interpret EPA Victoria guidelines in approving the builder's request for extended working hours which allows works on any day except Sunday up until 9pm on 36 separate or consecutive occasions.
"This is excessive, offensive and will be the cause of nuisance and loss of amenity to nearby residents," objector Ian Renwick said.
The mayor Cr Graham Pittock said he was "unaware" of any resident concerns over construction noise.
The approvals by council allow Kane Constructions to make up for supposed lost time on the $50 million project – a seven storey, 30-metre high, 120 room complex on Trent Jones Drive.
RACV Cape Schanck Resort project manager Brad Van Cuylenberg said work was "proceeding in accordance with the development plan and is on schedule for completion in 2018".
"The project is progressing well with minimal disruption to resort operations, members or guests," he said.
Mr Renwick criticised a shire officer statement supporting the company's request for extended working hours.
Principal planner Krystal Blizzard had stated in a report: "Given the allowances provided by the EPA guidelines in terms of construction hours it was considered reasonable to allow the request to extend the hours to facilitate a quicker turn-around to finalise the development."
Mr Renwick: "Clearly this is the only possible explanation [as to] why council officers are failing to adequately take into account residents' concerns about extended working hours, and failing to adopt EPA guidelines in relation to working hours and what constitutes noisy works.
"Unlike Ms Blizzard, I do not consider council's decision to be reasonable. Finalising a development quicker should not mean flouting EPA guidelines to the detriment or amenity of residents."
The site's original construction environment management plan states: "The operation of all machinery, including transportation of materials to or from site, [is to be from] 7am-5.30pm Monday to Friday and 7am-1pm Saturday. No noisy works are to occur before 7am Monday to Friday and 9am Saturday."
Mr Renwick said these times aligned with EPA noise control guidelines.
"Ms Blizzard's email indicates council's approval to extend working hours on Saturday to 2.30pm," he said.
"Council also approved up to 30 concrete pours and six structural steel erection activities requiring finishing out of hours [up to] 9pm.
"This could mean that Kane could work on 36 days and finish at 9pm, meaning an extra 3.5 hours on weekdays and up to an extra 6.5 hours on Saturdays."
The company requested the longer hours to cope with "intermittent or essential safety works that may fall outside current permitted working hours".
Mr Renwick said the extra hours contravene the EPA rules stating that construction noise with an adverse impact on amenity must not occur on a Sunday or other public holiday, or on any other day except 7am-7 pm.
"On the basis of permitting Kane to work until 9pm it appears council has breached EPA guidelines."
Friends of Cape Schanck's Irene Wylde said members were concerned the council continued to override the views of ratepayers. She said they were considering approaching the Ombudsman's office for assistance.
"It doesn't seem to matter how many objections the [council] gets, they just ignore them," she said.
It is rumoured that construction delays have been caused by concrete piling being sunk in the wrong place. A concrete-breaking machine on site for several weeks last month could be heard and felt at neighbouring homes.
A pile of broken concrete at the southern end of the work site was visible from Trent Jones Drive. The RACV did not offer comment on this.
Mr Renwick said Ms Blizzard's edict that "no pneumatic power tools, grinding or other impacting tools will be used between 7am-9am on Saturday" was "another change to the original CEMP which did not refer to the use of specific tools but rather noisy works".
"So, while there were noisy works last Saturday from 7.30am, Kane was able to assert that no pneumatic power tools, grinding or other impacting tools were being used," he said.
"[Her] email of 12 September further states that: It is noted cleaning of vehicles, general packing up and making both the site and machinery safe is not considered to be construction works.
"However, the EPA (4773 Construction Noise) document states: Construction noise is noise that arises from an activity at a construction site that includes: demolition work, site preparation work, and building maintenance or repair work; operation of vehicles within, entering or leaving a construction site; any activities at, or within, the immediate vicinity of a construction site, of persons who perform work at the site, or activity connected with work at the site."
The shire last weekend issued residents with meters so they could monitor out-of-hours noise from the construction site. Breaches were to be reported to the compliance team.
Project manager Brad Van Cuylenberg said the RACV was continuing to provide residents with updates through a stakeholder committee, which "has been meeting regularly since December 2015".
"Mornington Peninsula Shire Council has approved the hours of work for the site. If the builder sees any benefit in altering those hours then they would raise this directly with the council," he said.
Kane Constructions has reportedly been fined more than $1500 for working hours' breaches so far.
First published in the Southern Peninsula News – 20 September 2016