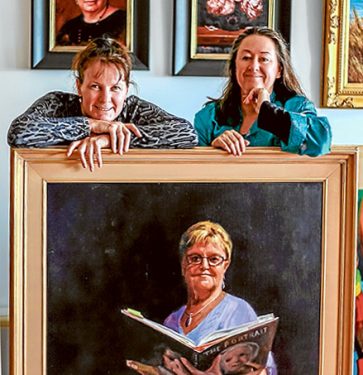 WHILE speaking with portrait artists Fiona Bilbrough and Vicki Sullivan it becomes clear that their subjects are much more than mere objects to be represented as one-dimensional art.
Sullivan likes to have lunch with her subjects and have at least two sittings in her Rye studio.
The lunch provides a relaxed way "to study the structure of the head, skin tones and the character in the hands".
Bilbrough, who is exhibiting her works alongside Sullivan's in a Portraits exhibition at Mornington Peninsula Regional Gallery, spends "many hours conjuring up a concept that will hopefully look appealing to me enough to sustain my interest long past the early hours of getting to know the model".
The interaction between artist and model can extend well beyond those times devoted to planning and application of paint.
Bilbrough's choosing to paint anti-domestic violence campaigner Rosie Batty has had a profound and ongoing effect.
"Rosie is a woman who I felt should be painted in a manner that forced people to look again. Look again at the face behind the tragedy that unfolded in front of the world. One woman walking the path no woman should ever have to face," Bilbrough says of the tragedy that was revealed when her estranged partner Greg Anderson murdered their 11-year-old son Luke during a regular cricket practice at Tyabb in 2014.
"We still have an incredibly long way to go in changing not just the laws to protect all children but the many women and to some lesser degree men who courageously stand up for the wellbeing of their children," Bilbrough says.
The approaches taken towards portraiture by Sullivan and Bilbrough come from the same source: studying in Italy and a love of the Great Masters.
"Since my travels, which took me all over Europe studying the Great Masters with a focus on still life and formal portraits, I've finally decided I actually do have a preferred topic and medium: oil painting and portraiture," Bilbrough, of West Rosebud says. "Portraits are so not forgiving. It's certainly not for the faint hearted."
Sullivan, who credits Bilbrough as one of her teachers (along with Brian Armstrong in Australia and "maestro" Michael John Angel in Florence), describes herself and Bilbrough as "contemporary realist painters [who] have been practicing and learning the methods of the Old Masters and employing these age old methods while painting contemporary subjects, including commissioned portraits".
"I feel portraits are a wonderful intimate way to portray a subject," Sullivan says.
"Someone once said to me a camera captures, but an artist selects, and with a portrait painting it is more a personal insight into the person being painted.
"I like my portraits to capture something deeper of the essence and character of the person while looking as if they could walk out of the painting and into the room. Portraits can be much more three dimensional than a photo."
Sullivan's seven portraits in the exhibition feature actors Kerry Armstrong, John Waters and Steve Bastoni, opera singers Deborah Cheetham and Liane Keegan and footballer Paul "fish" Salmon.
Sullivan and Bilbrough were invited to exhibit at the Mornington Peninsula Regional Gallery following their Woman Painting Woman exhibition at Burringa Art Gallery, Upwey, earlier this year.
Their exhibition Portraits: Sullivan & Bilbrough opens at the gallery in Civic Reserve, Mornington, at 4pm Saturday 24 September.
Also opening at the gallery on the same day and running until 20 November is Daryl Gordon: Peninsula people (photographs) and Salon des Refuses, the "official alternative" selection of entries in the 2016 Archibald and Wynne prizes.
Details: www.mprg.mornpen.vic.gov.au or call 59501580.