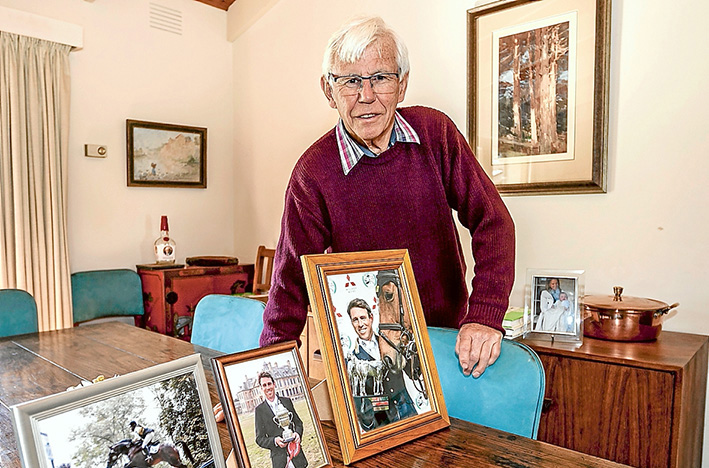 PEARCEDALE man Bill Griffiths has been smiling ever since his son Sam's equestrian success at the Rio Olympics.
The international rider and member of the Australian eventing team won a team bronze medal and placed fourth individually making him the equestrian team's best performer at the games.
"It was a great effort," Mr Griffiths (senior) said last week.
"He did a great job for Australia; the Germans were red-hot favourites but Sam put us back into a gold medal-winning position – it was a great effort, he did brilliantly."
Day one of the eventing was dressage, day two cross country where Sam tackled 44 jumps against the clock and day three was show jumping, which involved teams and individual performances.
"Sam was the first rider out and he was one of only three riders without any jumping penalties," Mr Griffiths said.
Sam, 44, who is based in England with his wife Lucy – also an elite equestrian – began riding at the Pearcedale Pony Club 35 years ago.
"We came here in the 1950s," Mr Griffiths said. "Sam's born-and-bred Pearcedale and went to Pearcedale Primary and then Peninsula School. He left for England 15 years ago for time off after finishing a geography degree at Monash University and decided to stay and make a career for himself as an event rider and horse trainer."
Sam's career highlights include being a member of the Australian team at the London Olympics in 2012, being a reserve for the 2004 Athens and 2008 Beijing Games, winning the 2014 Badminton Horse Trials, and placing 16th individually and fourth in the team event at the World Equestrian Games in Normandy the same year.
"He is very Australian, even though he lives in England, and has 15-20 horses in training," his dad said.
It's not hard to tell why the horse riding events were a non-negotiable part of the Griffiths' Olympic viewing. "We didn't go over there but didn't miss a minute of it on TV."
First published in the Western Port News – 20 September 2016