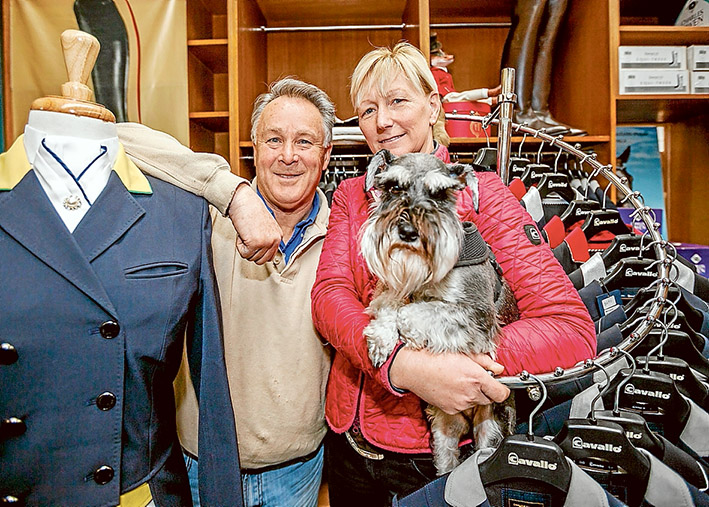 ALTHOUGH they were thousands of kilometres away in Somerville, Caroline and Peter Wagner rode the highs and lows along with members of Australia's Olympic equestrian team at Rio.
The couple's business Wagners Saddlery supplied the bespoke clothing for all members of the eventing, dressage, show jumping and Paralympic teams.
And, now that the fortnight's frenetic competition is over, they can relax a little and take stock of another hectic period in their business lives.
Ms Wagner said she and Peter and their six staff were proud of the way competitors looked in their tailored jackets, riding breeches, shirts, boots and hats.
They also dressed gold medal-winning pentathlete Chloe Esposito for the show jumping segment of her event, as well as her brother Max, also a pentathlete, and former Pearcedale equestrian competitor Sam Griffiths, now based in the UK.
Ms Wagner says the heat and humidity of the host country played a huge part in their choice of fabric, which is sourced from Switzerland.
"It has to have the ability to stretch and be breathable and comply with the colour code," she said.
"It has to look good, be comfortable and work to the best of the rider's ability."
The garments consisted of white shirts and breeches, navy jackets with gold collars and forest green piping and badges with the Olympic rings and the words Rio 2106 in gold.
Wagner's, which was established in 1979, also outfitted the Australian equestrian team for the Beijing and Sydney Olympics as well as the World Equestrian Games in Kentucky, US, in 2013.
Team officials contracted the company for 22 riding outfits, but Ms Wagner would not divulge the size of the deal.
"We were approached because we had done it before and had been recommended," she said.
"We showed our range of fabrics and colours and demonstrated how we could put it all together and we were accepted."
A dressage competitor herself, Ms Wagner said it was a test of her skills to obtain correct jacket, breaches and helmet measurements via email from the Australian riders based in the US, England, Germany, the Netherlands and England, as well as the two pentathletes in Hungary.
"As exciting as it is, it's a bit of a nightmare, too," she admitted.
"Everything's got to be made in time and we have the first eight to 10 riders settled but a decision on the others is not made until the last minute and they are all different shapes and sizes.
"We are lucky with the advances in technology that allow us to make outfits that look good and are superior in comfort.
"It's nice when it's all done and everything fits and looks good; it's such a relief."
First published in the Western Port News – 20 September 2016