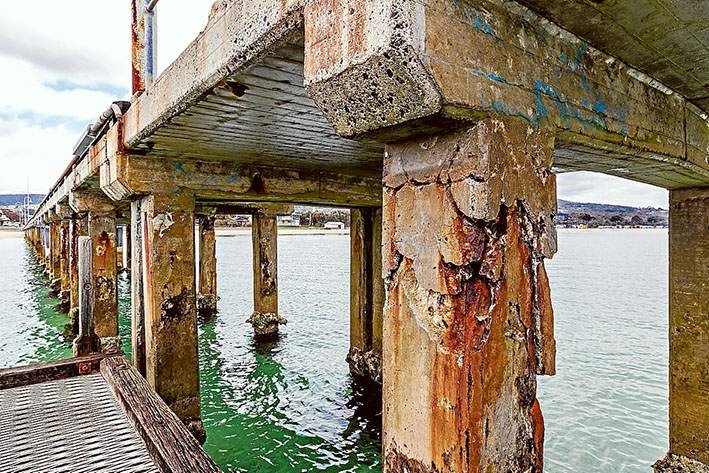 SAVE the Dromana Pier campaigners are buoyed by Mornington Peninsula Shire's support for their cause, even though any decision on its future ultimately rests with Parks Victoria.
Councillors voted at Monday night's Special Council meeting – the last before the shire goes into caretaker mode – to advocate for the redevelopment of the pier to ensure its long-term survival.
The group's secretary Ray Barnard-Brown said the shire's backing was a much-needed "shot in the arm" for their campaign. "It gives us added legitimacy," he said.
It also reinforces community approval for the 1862 pier – extended in 1873 and rebuilt in the 1950s – which was reflected in a 7000-signature petition collected at a foreshore rally on Australia Day.
A 2012 report by the Association for Building Community in Dromana had predicted the life span of the existing pier, even accounting for recent repairs, was only eight-10 years.
A shire planning report recommends the advocacy stance be directed at Parks Victoria and the Department of Environment, Land, Water and Planning.
The Save the Dromana Pier group is talking up a mail survey by Nepean MP Martin Dixon's office which received more than 1000 positive replies out of 4000 forms sent out canvassing community views on the pier.
"That was pretty extraordinary," electorate office manager Russell Joseph said. "We've had even more dribbling in – there's more like 1100 now."
Mr Barnard-Brown said the community response was "remarkable". His group also believes there is a strong case for extending the pier to its original length – about twice its present length – to enable bigger boats, and possibly ferries, to dock when road traffic reaches gridlock during holidays and peak hours over the next few years. They say the depth now is only about waist high at low water.
"There's an opportunity for fast ferries to come from Melbourne for the wineries and the new Arthurs Seat Eagle chairlift."
First published in the Southern Peninsula News – 27 September 2016