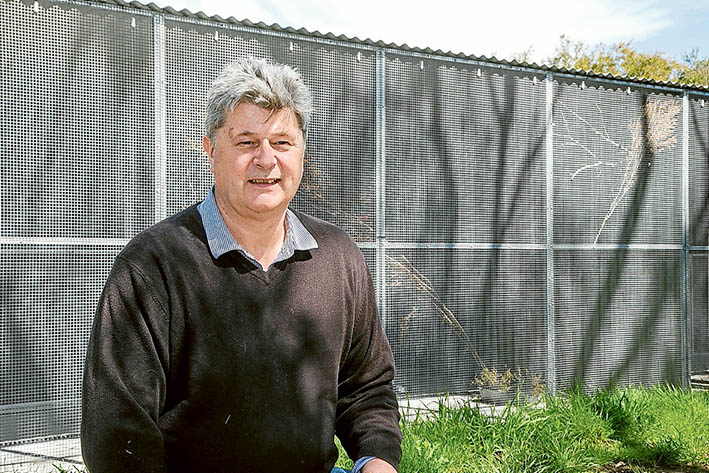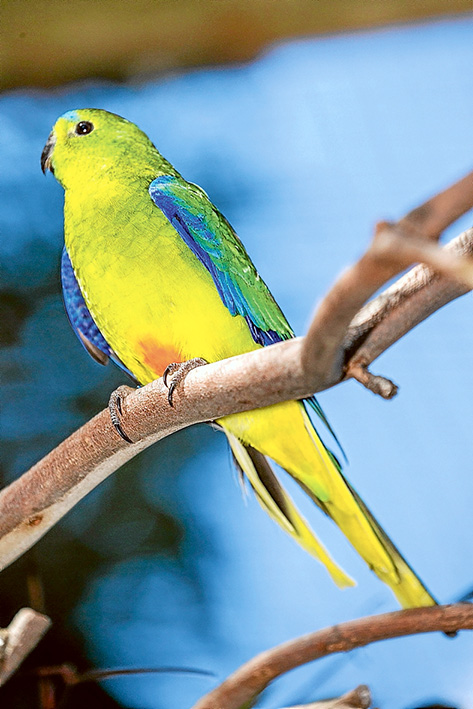 IT might be a relatively narrow stretch of water, but Bass Strait is a major factor in the survival chances for the critically endangered yellow-bellied parrot.
With the number of birds in the wild estimated at less than 50 experts say they face most dangers when flying to Victoria from their breeding grounds in Tasmania.
Most of the surviving birds are banded and are easily tracked in Tasmania as they breed in a relatively concentrated area, but the bigger problems arise on the mainland where they are spread more thinly in small groups or individually.
Michael Johnson's Moonlit Sanctuary at Pearcedale is playing a key role in a breeding program designed to increase the long term survival of orange-bellied parrots, regarded as being one of the world's rarest and most endangered animals.
A new aviary opened last week at the 10 hectare sanctuary in Tyabb-Tooradin Rd is able to house 20 breeding pairs, enough to rear 100 young each year.
Mr Johnson said parrots fly north to escape Tasmania's severe winters.
He said the birds probably follow an age-old flight path which would once have been along the "land bridge" that one connected Tasmania with mainland Australia. Three birds bred at the sanctuary will be soon released near the Tasmanian breeding grounds at Melaleuca, on the south coast.
"Hopefully they will breed this year before making the annual migration across Bass Strait," Mr Johnson said.
"We don't really know why they are endangered, but the major threats come from birds of prey and flying across Bass Strait, which can't be easy if there's a storm."
Mr Johnson said Moonlit Sanctuary now housed 24 orange-bellied parrots and had built the new 24-aviary breeding centre after having successfully bred 20 birds in the past three years.
"We were able to show it was possible to breed the parrots while still keeping costs down," he said.
Mr Johnson said while it was difficult to track the parrots on the mainland, they had been reported in Western Port two years ago and were regulars at Swan Island in Port Phillip and at Werribee.
Orange-bellied parrots – one of only two known migratory parrots – started returning to Tasmania this month and would not leave until next April.
The opening of the new breeding aviary coincided with the sanctuary's 15th anniversary.
The aviary includes two 12 metre long free-flight sections for non-breeding seasons and is designed as a quarantine centre to prevent the spread of beak and feather disease, which can affect wild orange-bellied parrots.
Zoos Victoria contributed almost $100,000 towards the new aviary.
The sanctuary has been a key partner in the orange-bellied parrot program since 2013 and is committed to spending $500,000 over the next 10 years to run the new breeding centre.
"These new aviaries provide a significant boost to the captive breeding program for one of Australia's most endangered species," Zoos Victoria's acting general manager of threatened species, Dr Michael Magrath said.
"Saving species is very much a team effort and it is terrific to have Moonlit Sanctuary substantially expanding on their involvement and commit to saving this iconic bird from extinction."
BirdLife Australia CEO Paul Sullivan said the sanctuary's new aviary "is critical to managing and enhancing the captive breeding program to save this species".
The new breeding centre has a viewing platform for visitors, an educational space to learn about the species, and a nest cam covering the breeding behaviours of orange-bellied parrots.
The sanctuary also contributes to other threatened species recovery and breeding programs including regent honeyeaters bush stone curlews and spot-tailed quolls.
First published in the Western Port News – 27 September 2016