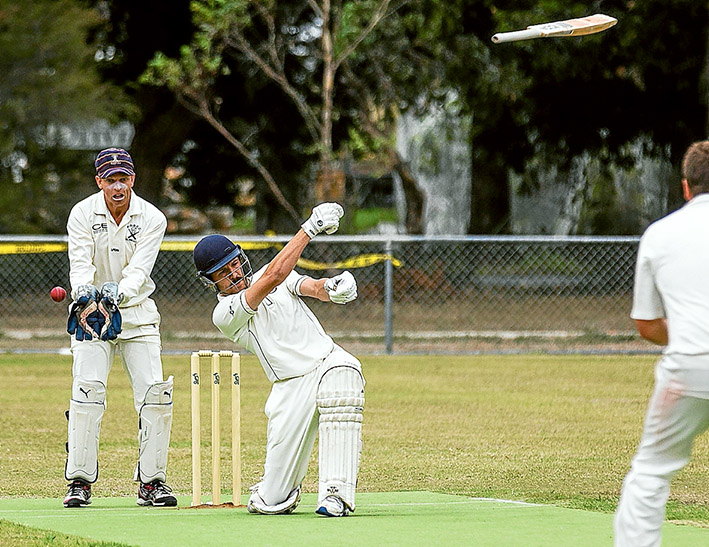 REIGNING MPCA Provincial premiers Peninsula Old Boys will be hard to stop again as we gear up for the opening one-dayer round of the season on October 8.
Despite clubs circling the Old Boys' list in the off-season, they have managed to keep the team together, including the talented Will Crowder, who is keen on batting higher this season.
Matty Heiden again takes charge while the likes of Dylan O'Malley and Wade Pelzer, both run machines last season, will be features again.
Last year's runner up, Crib Point, have lost Rob Hearn, but gained some handy types in Spencer Wilton from Frankston, Tyler Wilson from Balnarring and Jacob Burridge from Adelaide.
After finishing the home and away season a game clear on top last season, the Pies will be looking to go one better.
Somerville finished third last season and will be strengthened by the return of Andrew West and Aaron Kaddatz, while Jarrod and Cameron Bailey arrive from Moorooduc.
Baxter has gone hard in the off-season in the hope of improving on its semi-final appearance last season. Justin Bridgeman (Long Island) arrives and Jedd Sutton returns – they've lost no-one.
Sorrento has lost AJ King to Tootgarook and Anthony Blackwell has retired. Nick Jewell is non-playing coach. He might be needed at some stage.
Langwarrin finished a game outside the four. David Ross has returned and Matt Campbell arrives from Mordialloc.
Long Island has lost Bridgeman and Scott Phillips to Narre Warren but have picked up Stuart Swift from Carrum Downs, Cal Savio from Ballam Park and Lachy Scott from Dandenong.
At Moorooduc, Carey Sawosz from Hastings is a good inclusion while Shanith Kannangara is also back. Nathan Hangan from Darwin comes with big wraps. There's been quite a few leave the Ducs though, including Leigh Lambert and Sushant Gupta.
Mornington will be bolstered with the off-field assistance from Darren Berry. Adrian and Josh Dale return and Lambert from Moorooduc has made the switch. The Dogs were poor last season and are sure to respond.
Victorian Country quick Shaun Knott is a big in at Mt Eliza. Justin Grant will lead the charge in what the Mounties expect will be a big year.
New kids on the block Pearcedale go into the season with pretty much their District Premiership side, minus Shane Maggs.
Pines gain Damien Lawrence from Seaford but lose Ricky Ramsdale to Delacombe Park. Craig Entwistle takes charge.
In District ranks, reigning Sub District champions Rosebud have appointed the talented Billy Quigley as captain, while Brad Glenn has retired.
The Buds take on Mt Martha in the opening round who will be looking at big years from Aidan Pateman and Rhys Whittling, while Red Hill's Riley Shaw is a good inclusion.
Red Hill wobbled into last year's finals and ex Zimbabwe U19 Carl Robinson should add something to the mix. Robinson is a tall leggie and middle order bat.  The Hillmen take-on Boneo in the opening round, who will be bolstered by the return of Stuey Peck and Chris Jobling.
Baden Powell, who looked odds-on at stages last season, have lost Tom Wood, which is a huge loss.
Flinders have lost Grayson and Parrott but have picked-up Waide Symes.
Main Ridge have secured Carrum's Shaun Foster and Sam Lyons from Queensland.
Matty Meagher has returned to Heatherhill, Ricky Ramsdale takes the helm at Delacombe Park and Justin Parkes arrives at Seaford Tigers.
In Sub District, Nick Tarrant has returned for Tyabb, who finished well out of contention last season.
Frankston YCW will be looking to go one better after losing the grand final to Rosebud. Bart Hudgson heads to the Stonecats from Pines while they have retained the large majority of their list.
Hastings has picked up Rob Hearn as coach but have lost Sawosz and Timmy Birch.
At Dromana Kieran Voekl is back from Frankston as coach and Jack Fowler is skipper. Andrew Siverella also comes with wraps. Darren Kerr has retired while Kaddatz and West have returned to Somerville.
At Ballam Park, Stuart Plunkett is skipper, a relegated Carrum has lost Lachy Dobson and Foster and Carrum Downs has lost Stuart Swift to Long Island.
Tootgarook, who finished sixth last season, a game out of third place, have picked-up AJ King from Sorrento and Andrew Libby, a part-time bowler and middle order bat, previously from Rye.
Fixtures – Round 1 – October 8 (One-day game)
Provincial: Baxter v Mt Eliza, Sorrento v Mornington, Moorooduc v Pines, Long Island v POB, Crib Point v Pearcedale, Somerville v Langwarrin
District: Boneo v Red Hill, Rosebud v Mt Martha, Delacombe Park v Main Ridge, Seaford Tigers v Rye, Seaford v Flinders, Heatherhill v Baden Powell.
Sub-District: Tootgarook v Carrum Down, Ballam Park v Hastings, Carrum v YCW, Dromana v Skye, Balnarring v Tyabb.