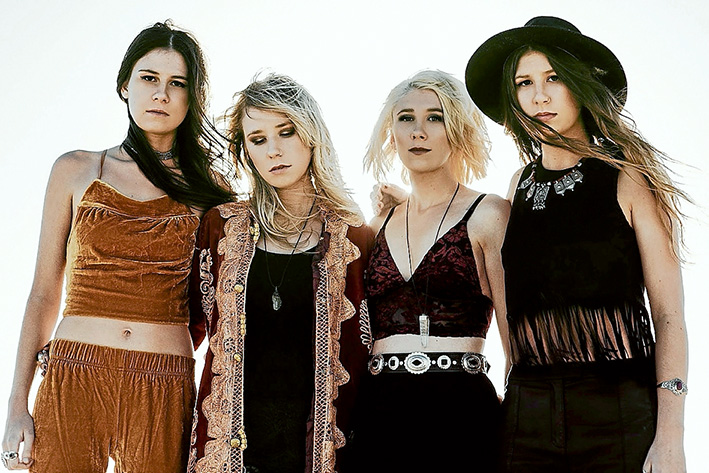 Australia's favourite psych rock sisters Stonefield are hitting the road on a massive national headline tour that will stop in at The Grand Hotel, Mornington on 27 October.
Coinciding with their massive tour, the band have released a new single, 'Love'.
In contrast to most of the record, where the writing process began with the vocal as the guiding light, 'Love' was written with quite a different approach, taking shape from a stripped back jam between lead guitarist Hannah, Sarah (keys) and Holly (bass). The sisters were rocking out in their lounge room in country Victoria, and brought to life an intricate and intoxicating musical bed, to which vocalist Amy then added a jangly, day dream inducing top line. The instrumental focus is evident in the finished track, and shows yet more diversity from an already dynamic young band.
The follow-up to 2013's self-titled debut, As Above, So Below, reaffirms the position of the four-piece in the upper echelons of Australian psych-rock royalty. The record is a musical coming-of-age of sorts, the sprawling soundscapes and lyrical depth of As Above, So Below showcases the group's progressing musical maturity. The 10-track juggernaut delicately and boldly displays the Findlays' signature penchants for kaleidoscopic guitar riffs, swirling melodies and hallucinogenic vocals.
Stonefield are renowned for their mind blowing, energetic, engaging live shows, and have spent the last six months traversing the globe and performing on some of the world's biggest stages, wowing fans on a string of headline US shows, including a jaunt at Austin's SXSW festival.
Joining them on the road are all-girl powerhouse RACKETT, whose debut single BATS was released in July. Making loud and experimental pop rock, the fourpiece  provide fans with an adventurous live show. Their high energy set travels between punk-pop hooks and unpredictable live jams, keeping both the girls and the audience on their toes.
Rounding off this epic line-up are White Bleaches, the four-piece garage psych band formed in 2015 in Torquay. Since relocating to Melbourne theys have played with the likes of Twin Peaks, Green Buzzard, and King Gizzard and the Lizard Wizard, to name a few.
"It's been way too long since we have been on the road for a big tour, so we're really excited to get back out there to share our new music with Australia. Rackett and White Bleaches are both rad bands, so it's going to be a really fun tour!" said Amy Findlay.
If their track record for smashing their sold out live sets is anything to go by, these shows are not to be missed!
Stonefield will be playing at The Grand Hotel, Mornington, on 27 October. (18+).
Tickets at www.grand.oztix.com.au or www.grand.net.au