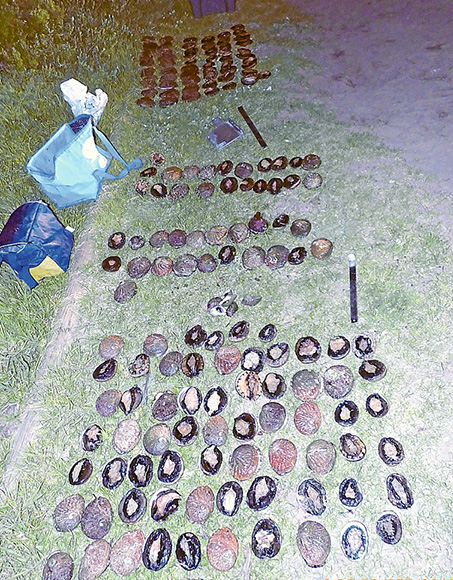 THREE men have been charged after being caught at Number 16 Beach, Rye, with 169 abalone.
Fisheries officers who stopped the men at 11pm on Thursday 23 September found the abalone in their four-wheel drive.
"The men, aged 32, 36 and 40 from Malvern, Mt Waverley and Vermont South, were not deterred from fishing in what were cold, rough and windy conditions," acting director of fisheries education and enforcement, Brooke Hall, said.
The men will be charged on summons with taking a commercial quantity of abalone during the closed season; taking abalone from the protected intertidal zone; taking and possessing undersize abalone; taking abalone after sunset.
Fisheries officers returned all 169 abalone to the water that same night but say their survival rate is uncertain.
Mr Hall said recreational fishers could take abalone from Central Victorian waters, but that catch limits, equipment restrictions and a closed season applied to ensure the fishery remained sustainable.
"Fishers may take five abalone a day on nominated open days in Central Victorian waters," he said.
"The minimum legal size is 10 centimetres within Port Phillip and 11 centimetres elsewhere in Central Victorian waters, including Number 16 Beach at Rye."
Other rules are outlined in the Recreational Fishing Guide www.vic.gov.au/fishingguide
People who see or suspect illegal fishing activity can call 13FISH (133474) anytime.