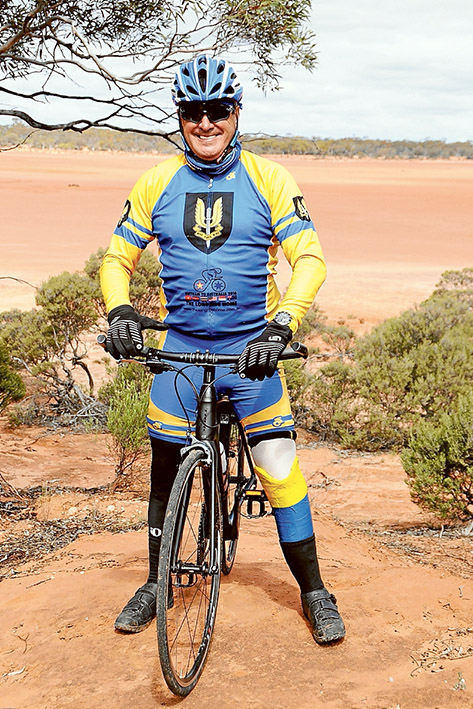 By Barry Irving
FORMER SAS Warrant Officer, 68-year-old Laurie "Truck" Sams, holder of the Star of Courage medal, has embarked on an epic cycling journey called The Long Ride Home. And one of his stops will be the Southern Peninsula.
Mr Sams is cycling through six countries to support Australian Army, Navy, Air Force and Special Operations veterans of wars in Vietnam, Timor, Iraq and Afghanistan.
He started at the Australian Embassy in Hanoi at 11am, Thursday 12 May, and plans to complete the 10,000km ride on the 51st anniversary of the 10,000-day Vietnam War.
Crossing the bay by Sea Road Ferry from Queenscliff to Sorrento, Mr Sams will be hosted by Rye RSL on Friday 28 October for a commemorative service at the memorial wall, followed by a lunch with entertainment.
His ride aims to raise awareness and secure funding for the support and care of military veterans who, through military service to their country, are suffering physical and/or psychological trauma (PTSD).
"The soldier above all others prays for peace, for it is the soldier who must suffer and bear the deepest wounds and scars of war:" Douglas MacArthur.
Mr Sams has already cycled through SE Asia, including Hanoi, Phnom Penh, Bangkok, Kuala Lumpur and Singapore. The Australian leg will take him from Perth across the Nullabor to Adelaide, Melbourne and Canberra and then on to Sydney. While on the road he has been supported by cyclists into each state and every town along the way. The aim of the ride is raise as much money as possible.
Mr Sams intends to present an Australian flag to the Prime Minister at the Australian War Memorial on Armistice Day. His epic ride will finish on the steps of the Opera House on 20 November.
Australia is in the midst of its longest period of sustained military conflict in almost 20 years. This has involved the deployment of more than 75,000 Australian Defence personnel across the globe, primarily in the Middle East.
Beneficiaries of the ride include RSL Defence Care, The Bravery Trust and the St John of God Trauma and Mental Health Research Initiative.
On 28 October, "Truck" will be a guest in the Rye RSL Member's Bar, 5-6pm. All welcome.
First published in the Southern Peninsula News – 11 October 2016