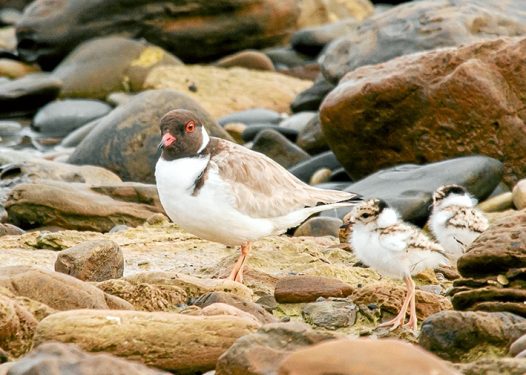 TOUGH new dog bans in the Mornington Peninsula National Park from Tuesday 1 November aim to help endangered hooded plovers, Parks Victoria says.
In March the Environment and Climate Change Minister announced that dogs would be banned across the entire Mornington Peninsula National Park to provide greater protection for vulnerable fauna species, including the endangered hooded plover.
"The hooded plover population in the Mornington Peninsula National Park is one of the largest in Victoria, however, they have had one of the lowest levels of breeding success, compared to populations in other Victorian coastal areas largely due to the presence of dogs in the park," Parks Victoria area chief ranger Kris Rowe said.
"We are increasing our ranger patrols ahead of the regulation changes to help make sure the public are aware that the dog bans will apply across the entire park from Melbourne Cup Day.
"Hooded plovers are particularly vulnerable to the presence of dogs. We can't emphasise enough how important it is for everyone to abide by the rules so that we can give them their best chance of survival," Mr Rowe said.
"More than 32 other fauna species of significance, in addition to the hooded plover, will also directly benefit from banning dogs in the Mornington Peninsula National Park."
Ranger patrols will focus on dog walkers who breach current restrictions, such as not having their dog on a lead, walking their dog outside the regulated times (sunrise-9am), or walking their dogs in the signposted dogs-prohibited zones.
Parks Victoria conducts extensive annual pest animal and plant programs across the park, including annual fox and cat programs.
"Without the presence of domestic dogs in the park, Parks Victoria will be able to broaden the current pest fox-and-cat programs to increase their impact and give endangered species, such as the hooded plover, their best chance of survival," Mr Rowe said.
"We want to thank everyone in advance for their cooperation and we're looking forward to what will, hopefully, be a good breeding season for this iconic threatened species."
Alternative dog walking areas on the peninsula include some bay beaches and leash-free reserves managed by Mornington Peninsula Shire Council.
For advice on alternative dog walking areas outside of the national park, visit mornpen.vic. gov.au or call 1300 850 600.
For more information about dog restrictions in Mornington Peninsula National Park call 13 1963 or visit parks.vic.gov.au
First published in the Southern Peninsula News – 18 October 2016