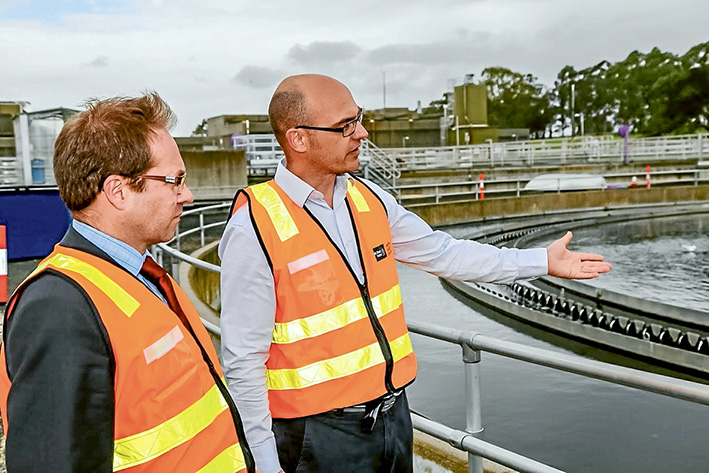 A $60 MILLION upgrade to South East Water's Mt Martha Water Recycling Plant will provide an alternative source of water for local businesses and community organisations, while reducing the environmental impact of its water treatment processes.
Eastern Victoria MP Daniel Mulino opened the upgraded facility last week and met with customers making use of the new recycled water supply.
Construction of the tertiary treatment plant was central to the two-year project. It can deliver 26 mega-litres of Class A recycled water each day to farms, wineries, business and council facilities.
The upgrade also includes an Australian first thermophilic anaerobic digestion process in which organic matter is broken down by higher temperatures.
Unlike traditional anaerobic digestion processes, which maintain organic matter at body temperature during treatment, TPAD makes greater use of the biogas emitted during the digestion process to heat the material to 55° centigrade, cultivating bacteria that deactivate pathogens and remove volatile organic content more quickly.
This creates a more efficient treatment process, and reduces the recycling plant's environmental impact by capturing and using more methane and producing less odour.
To allow it to reuse bio-solids – a by-product of the treatment process – South East Water has also included two solar dryers in the upgrade. These reduce the need for open air drying pans which cause odour and take up lots of space within the plant.
The solar dryers cut the bio-solids' drying time from one year to as little as two months, getting a higher quality fertiliser into the hands of farmers more quickly. They use a fraction of the energy of alternative technologies, such as gas-powered dryers.
South East Water has five solar dryers and produces more than 3000 dry tones of bio-solids each year.
"We are working closely with customers to further boost recycled water use and enhance the resilience and liveability of this growing region," South East Water managing director Kevin Hutchings said.
Tours of the Mt Martha Water Recycling Plant are available for school students, Rotary, TAFE and university groups and can be arranged by calling 9552 3515.