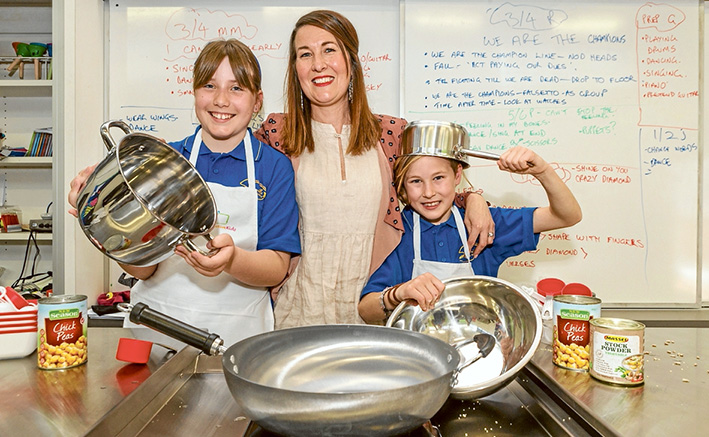 SOMERVILLE Primary School mum Leah Sherrin entered a competition to win the school a fully equipped mobile teaching kitchen valued at $25,000 – and she won.
The national competition prize, donated by Nestle as part of its Healthy Active Kids program, was presented last week.
The kitchen has a commercial convection oven for fast baking and cooking and an induction stove-top. It has a kitchen sink, clean and grey water tanks, lockable cupboards and drawers, child safe kitchen tools and utensils, and sturdy, lockable castor wheels. It allows cooking classes to be held anywhere in the school.
Principal Sue Goodall praised Mrs Sherrin for giving the school a "huge opportunity".
"It's a brilliant facility," she said. "Now we are able to integrate health and wellbeing into the school curriculum.
"We have a vegetable garden and this adds to the pupils' learning about science, literacy and numeracy, and healthy lifestyles.
"They are more likely to eat healthy food if they have helped grow it."
Produce from the vegetable garden and prepared in the kitchen will be consumed at the school's Breakfast Club on Mondays and Toast and Talk on Wednesdays.
Fast cooking times on the induction cook-top fit in nicely with class durations. And school leaders are now putting on cooking demonstrations to show staff how to use it.